Dutchman Jeroen Bleekemolen took the first pole position of the 2014 Blancpain Sprint Series, driving the #28 Grasser Racing Team Lamborghini. He will share the front row for Sunday's Qualifying Race with Belgian Audi Club Team WRT driver Laurens Vanthoor. His teammate René Rast will start from row two, next to Peter Kox in the #24 Blancpain Racing Lamborghini. Mateusz Lisowski was fastest of the Silver Cup drivers, finishing in 13th overall with his #4 Belgian Audi Club Team WRT Audi.
Sunny conditions greeted the twenty drivers that opened the qualifying hostilities in Q1. After fifteen minutes the 29-year-old Brazilian Sergio Jimenez of the BMW Sports Trophy Team Brasil created a bit of a surprise by staying in front of two Audi R8 LMS ultra, driven by his countryman Cesar Ramos and local hero Gregory Guilvert. Maximilian Buhk in the #84 HTP Motorsport Mercedes and Filip Salaquarda in the #90 Scuderia Villorba Corse Ferrari completed the provisional top five.
During Q2, Jimenez' time of 1.25.486 proved hard to beat and it took an inspired effort by René Rast in the #2 Belgian Audi Club Team WRT Audi to push the Brazilian BMW driver down to second. His team-mate and former F1-driver Nelson Piquet jr. slotted into fourth after Q2, his time being only 0.035 slower than the one set by Cesar Ramos in Q1. Then Armaan Ebrahim, driving the #62 Fortec Mercedes, went off in the final corner. The session could continue however, with the Indian driver unharmed in the incident. Marcus Winkelhock in the #5 Phoenix Racing Audi was the only driver in the top ten able to improve in the final minutes of Q2, but with five Audi, two Lamborghini, two BMW and one Mercedes within nine tenths of a second, Q3 promised to be a thrilling ten minutes of qualifying.
Laurens Vanthoor in the #1 Belgian Audi Club Team WRT Audi quickly lapped in 1'25.178, the quickest time of the weekend so far. It seemed good enough for pole position for the Qualifying Race, but in his third quick lap Jeroen Bleekemolen, who before this weekend had never raced on the Nogaro track before, managed to improve on the reigning champion's time. His 1'25.046 proved to be quick enough to start from pole in the first Qualifying Race of the Blancpain Sprint Series season, on Sunday April 19th at 14.15 CET.
Jeroen Bleekemolen (#28 Grasser Racing Team Lamborghini): "It was good fun. We only had half a day of testing before the start of the season, so it is very pleasing to immediately be where we want to be: in front of all the others. It will be a close race however. Everybody knows that the Audi R8 LMS Ultra performs well here, and we knew beforehand that it would be hard to beat them. But we did so in qualifying, and now we will have to try and do the same in the race. It will be exciting, for sure."
Laurens Vanthoor (#1 Belgian Audi Club Team WRT Audi): "I knew I had to set my quickest time in my first lap, but I made a small mistake. After that the tyres were gone, so there was no use in trying to improve my time. That is why I aborted the session a couple of minutes early. We will have to try and beat them tomorrow, in the Qualifying Race."
René Rast (#2 Belgian Audi Club Team WRT Audi): "Obviously I am a bit disappointed, because we were quickest in Q2. But that's life. I think it will be very difficult for the race, because the differences between the drivers are really marginal and this is a tricky track, with very little room for error. Furthermore, there is a chance of rain tomorrow apparently, so I am sure anything can happen."
Peter Kox (#24 Blancpain Racing Lamborghini, Pro-Am): "I think we are one of the few teams that have not tested on this Nogaro track, so we had to work ourselves to the top during free practice. You might say we were a bit lucky, because every adjustment we made improved the car and that is why we could catch up. But I have to thank Blancpain Racing and Reiter Engineering for their hard work, they have given me and Marc a fantastic car to drive."
Mateusz Lisowski (#4 Belgian Audi Club Team WRT Audi, 1st Silver Cup): "This is my Blancpain GT Series debut, so I am very happy with this qualifying result. Together with Vincent Abril, I will try to gain some spots in the overall classification during the qualifying race, but our main focus remains the Silver Cup. I am convinced we can do a really great job together."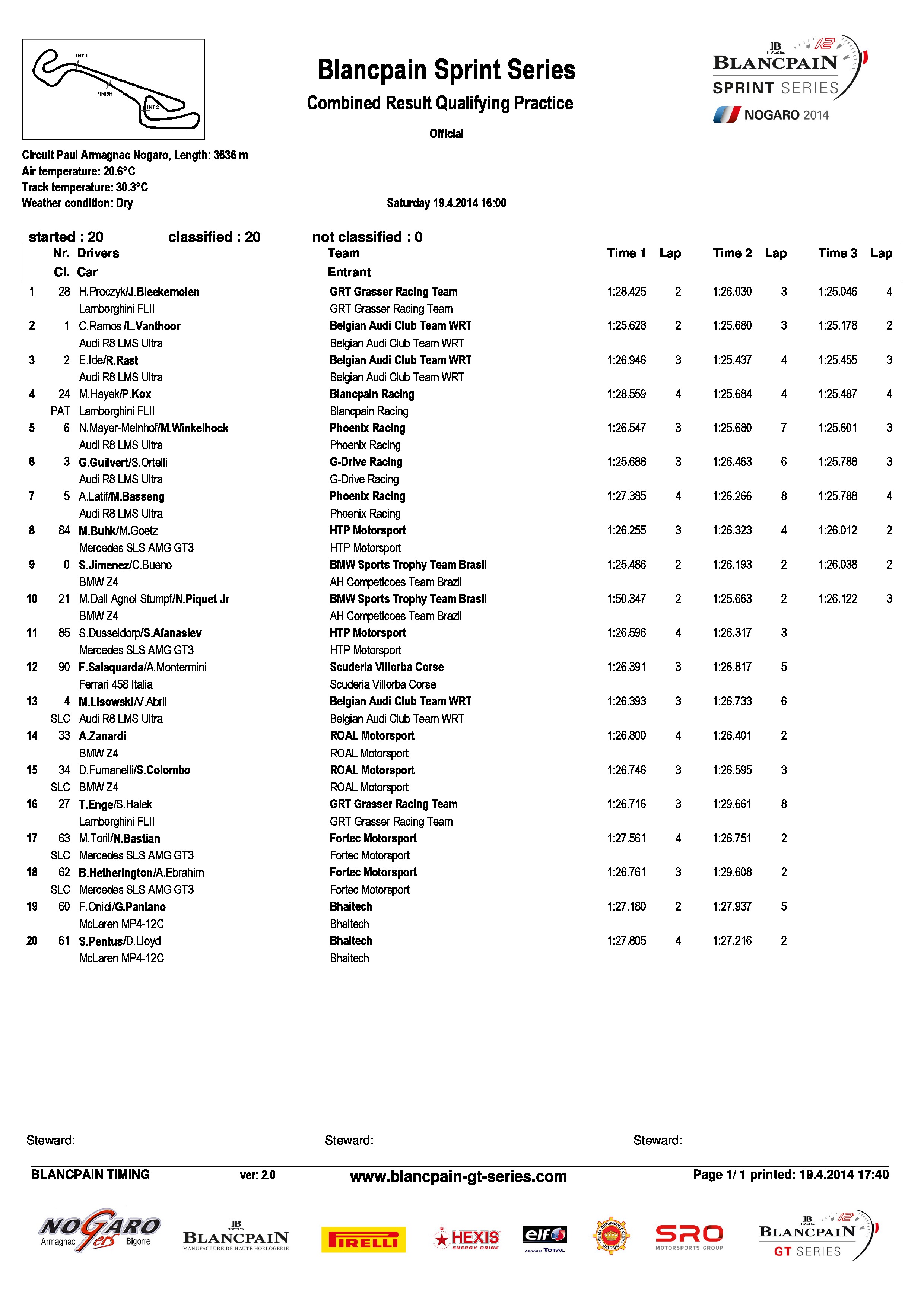 Image gallery : www.blancpain-gt-series.com
Follow @BlancpainGT for the latest updates over the race weekend
Link for : Live timing
Live streaming Qualifying Race (Sunday 14:15 CET) & Main Race (Monday 15:15 CET)
-----
Blancpain
Over 275 years of tradition in motion:
Founded in 1735 by Jehan-Jacques Blancpain, the watch brand bearing his name is the oldest in the world. Blancpain is currently engaged to the renewal of mechanical watchmaking and to passing on exceptional expertise from one generation to the next through constant investment in human resources, production facilities and research. This approach is its strength and the expression of our long-term vision, even though it goes against the tide of a certain tendency to seek immediate profit.From the creation of components through to watch design, Blancpai is distinguished by its ability to develop exceptional movements. Over the past nine years, the Manufacture has indeed developed no less than 32 new calibres.
Through its various models, Blancpain preserves its heritage of precision and elegance, while also displaying an innovative and occasionally provocative spirit. Its range encompasses the sportive L-evolution line, the legendary Fifty Fathoms diver's watch, as well as the classic Villeret collection, the high complication from Le Brassus collection and the Women models.

Pirelli – Official Tyre Supplier
Pirelli is a tyre manufacturer and world leader in the automotive industry. It has an exclusive relationship with over 50 racing series worldwide, including Formula One.
Pirelli has a long and illustrious history in endurance racing, and has also claimed a huge variety of class wins in GT racing all over the world.
The design of the new Pirelli GT tyres meets the needs of GT racing while maintaining the performance characteristics that endurance drivers have appreciated in the past.
The slick tyres used for GT racing are branded Zero: just like the slicks that have become a central feature of Formula One. The name P Zero is used in the highest categories of motorsport such as GT racing.
____