It will be at the French Circuit Paul Armagnac in Nogaro that the 2015 Blancpain GT Series will get underway. This first meeting will count towards the Blancpain Sprint Series as well, with several new faces – and cars! – on what arguably must be the fastest GT grid in the world.
If it's Easter, this must be Nogaro. The traditional Coupes de Pâques – that's Easter Cups – has the honour of being the inaugural round of this year's Blancpain GT Series. With a qualifying race and a main race, the sprint format remains unchanged, although – noblesse oblige – with a slightly different timing this weekend: as it is custom in Nogaro, the feature race will be held on Easter Monday.
Twenty cars will be competing in Nogaro, a number that should increase during the course of the season with a number of race-by-race entries. A whole armada of Audi R8 LMS ultra will form a third of the field, with reigning Teams champion Belgian Audi Club Team WRT aligning four of them. Laurens Vanthoor, the 2013 FIA GT Series champion and last year's Blancpain Endurance and overall champion, is looking for a third consecutive successful season. The Belgian has a new team-mate to share the #1 Audi and although he is a complete GT novice, Robin Frijns could well become one of the stars of this season. Between 2010 and 2012, the 23-year old Dutchman won every single full championship he competed in. Frijns is determined to continue that winning streak in 2015.
Competition for the Belgo-Dutch pairing might well come from within, since the other WRT-pairings (Nash-Stippler, Ortelli-Richelmi and Ide-Mies) all have at least one driver who has tasted sweet victory in a SRO Motorsports Group organised Series race before. However, the same goes for Winkelhock - Mayr-Melnhof and Salaquarda-Bonanomi, the crews of the #6 Phoenix Racing and #75 ISR Racing Audi respectively, so do not expect a walk-over for the reigning champions.
Especially since there are plenty of high-level new teams and cars on the 2015 Blancpain Sprint Series Grid as well. Bentley Team HTP, the team which last year won three of the seven main races and had drivers' champion Maxi Götz in its ranks, has switched from Mercedes to Bentley over the winter and gives the impressive Continental GT3 its sprint debut in Nogaro. A lot is expected from the British car that won two endurance rounds in its maiden season, especially from the #84 car, driven by 2013 endurance champion Maxi Buhk and 2014 Silver Cup winner Vincent Abril.
Another car which will be closely followed by fans and teams alike is the new McLaren 650S. German Attempto Racing brings two of those machines to the Blancpain Sprint Series and the one in the hands of McLaren factory drivers Kevin Estre and Rob Bell should be a contender for a podium finish.
Talking of factory drivers: BMW has sent two of their finest to the Coupes de Pâques as well. With Cacà Bueno and Sergio Jimenez competing in the Brazilian Stock Car championship, replacements had to be found to drive the #77 Z4 of the BMW Sports Trophy Team Brasil. With Maxime Martin and Dirk Müller the Brazilian squad's car should be in safe hands. The other yellow-and-blue Z4 will have twin brothers Ricardo and Rodrigo Sperafico at the wheel, standing in for Valdeno Brito and Atila Abreu, also active in the Stock Car in Brazil.
The Speraficos, like Frijns, are not the only former single-seater aces now having a go at the best GT Series in the world. 21-year-old Sean Walkinshaw, son of former Spa 24 hours-winner Tom, makes his Sprint Series debut as well, together with fellow Brit Craig Dolby. The fact that they are at the wheel of the lone Nissan GT-R Nismo, which is a new car for MRS GT-Racing, will not make their task any easier, but the two youngsters are ready to learn and to learn quickly.
Other teams count on experience to shine. Drivers like Marco Asmer and Bernd Schneider (GT Russian Team Mercedes), Albert von Thurn und Taxis and Nick Catsburg (Reiter Engineering Gallardo), Marco Seefried and Norbert Siedler (Rinaldi Racing Ferrari) all know their way around a race track and should not be forgotten in a list of overall podium candidates.
As was the case last year, the Blancpain Sprint Series has its own race within the race. The Silver Cup, reserved for Silver drivers under 26, will give young talents the opportunity to hone their skills and get on the top teams' radars. The same goes for the drivers in the Pro-Am Cup, the Cup in which the Porsche of Fach Auto Tech brings the total of different brands to nine.
As you can see, there is a more than impressive roster of cars and drivers to start the 2015 season. Be sure you finish looking for Easter eggs in time, so you can watch the first skirmishes of the new season on your favourite television channel or via the livestream on our website.

Maxime Martin (#77 BMW Sports Trophy Team Brazil Z4): "It is a real pleasure to be able to compete in the Blancpain Sprint Series, especially with a good team and a great team-mate. I have driven in Nogaro before, so I know the track well enough, I think. I am not sure what exactly will be possible for Dirk and I, a lot will depend on the competitiveness of the BMW Z4. The level of the series is very high, and you need to be on the top of your game to race among the frontrunners."
Vincent Abril (#84 Bentley Team HTP Continental): "In the 2015 Blancpain Sprint Series I want to confirm my performances from last year, when I won the Silver Cup. I have learned a lot in 2014, and together with Maxi I think we form a very homogeneous duo. It's the first time a Bentley is competing in the Sprint Series, so I can't wait to take the start at Nogaro. Especially since I have good memories at the track, claiming an overall podium last year."
Sean Walkinshaw (#73 MRS GT-Racing Nissan): "It's amazing to be confirmed as part of MRS GT-Racing for the Blancpain GT Series. It's all very exciting and especially with the brand new Nissan GT-R, I'm really looking forward to getting out in the car. There are some fantastic circuits on the calendar, some I have experience of and others which will be completely new. It's obviously going to be a huge challenge and there are a lot of very quick factory drivers in the series, with huge experience, but I've got a lot of confidence in the guys around me at the team, who I know will deliver a great car and help me improve as a GT driver."
Robin Frijns (#1 Belgian Audi Club Team WRT R8): "I have not raced much during the last two seasons, so when Vincent Vosse contacted me for a drive in 2015, I saw it as an excellent opportunity. Laurens and I were
team-mates in karting for five seasons, so we know each other quite well. Somebody asked me whether I am immediately aiming for the title in my first season, like I did in other championships. Of course I am."
_____

Entry list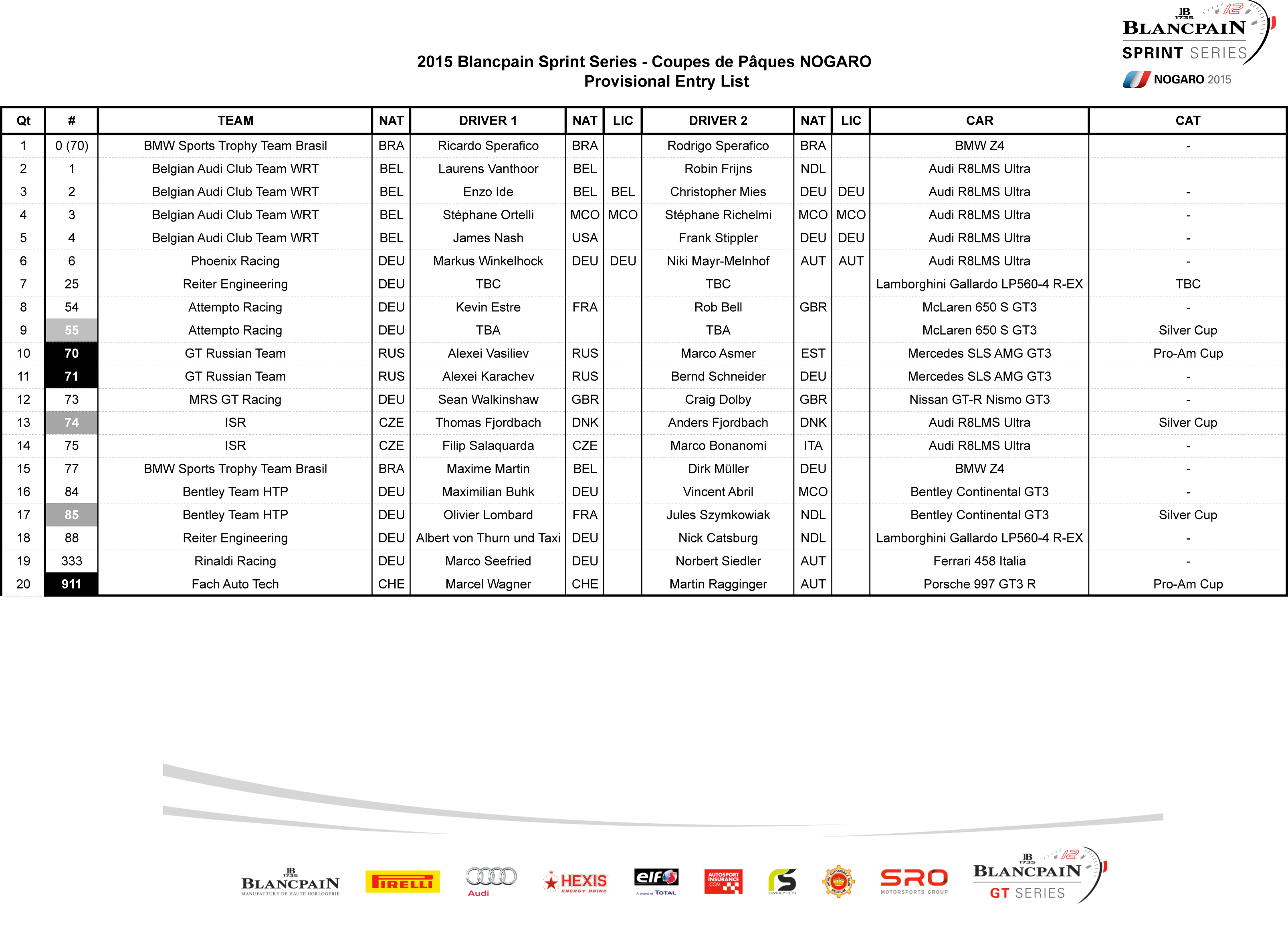 Weekend Schedule
Saturday 4 April
10:00 - 11:20 Free Practice 1
14:50 - 16:10 Free Practice 2
Saturday 5 April
09:30 - 10:25 Qualifying Practice
14:15 - 15:15 Qualifying Race
Sunday 6 April
08:45 - 09:05 Warm Up
13:10 - 14:10 Main Race
-------
Livetiming & livestreaming : www.blancpain-gt-series/GT TV/live

-------
More information
Press Images & Results : www.blancpain-GT-series/pressmembers
Twitter: www.twitter.com/BlancpainGT
Facebook : Blancpain GT Series
Instagram : Blancpain GT Series

_____
Blancpain - Innovation is our Tradition
Founded in 1735 by Jehan-Jacques Blancpain, the watch brand bearing his name is the oldest in the world. Blancpain is currently engaged to the renewal of mechanical watchmaking and to passing on exceptional expertise from one generation to the next through constant investment in human resources, production facilities and research. This approach is its strength and the expression of our long-term vision, even though it goes against the tide of a certain tendency to seek immediate profit. From the creation of components through to watch design, Blancpain is distinguished by its ability to develop exceptional movements. Over the past ten years, the Manufacture has indeed developed no less than 35 new calibres.
Through its various models, Blancpain preserves its heritage of precision and elegance, while also displaying an innovative and occasionally provocative spirit. Its range encompasses the sportive L-evolution line, the legendary Fifty Fathoms diver's watch, as well as the classic Villeret collection, the high complication from Le Brassus collection and the Women models.
--
Pirelli – Official Tyre Supplier
Pirelli is a tyre manufacturer and world leader in the automotive industry. It has an exclusive relationship with over 50 racing series worldwide, including Formula One.
Pirelli has a long and illustrious history in endurance racing, and has also claimed a huge variety of class wins in GT racing all over the world. The design of the new Pirelli GT tyres meets the needs of GT racing while maintaining the performance characteristics that endurance drivers have appreciated in the past.The slick tyres used for GT racing are branded Zero: just like the slicks that have become a central feature of Formula One. The name P Zero is used in the highest categories of motorsport such as GT racing.
---
SRO Motorsports Group - The architect of modern GT Racing
SRO Motorsports Group was founded by Stephane Ratel and has specialised in the promotion, support and organisation of many national and international motorsport series since 1995.
In 2015, SRO promotes several championships and series, such as the Blancpain GT Series (with the Blancpain Sprint Series and the Blancpain Endurance Series, including the iconic Total 24 hours of Spa), the Avon Tyres British GT Championship and the newly-created GT Sports Club and Ultracar Sports Club. SRO Motorsports Group has various franchise agreements, including the GT4 European Series.
SRO Motorsports Group runs also the SRO Race Centre by MMC, a high-level technical centre at the Paul Ricard Circuit in the south of France.
SRO has offices in London, Paris and Liège.
_____