AF Corse - Francorchamps Motors secured a maiden pole position for the Ferrari 296 GT3 ahead of this afternoon's deciding Endurance Cup race at Circuit de Barcelona-Catalunya.
Both of the Italian squad's factory-aligned cars were strong contenders throughout qualifying, the #51 crew of Alessio Rovera, Robert Shwartzman and Nicklas Nielsen ultimately taking top spot by 0.151s.
Rovera was fastest in the opening session, leading a Ferrari one-two ahead of Antonio Fuoco in the #71 machine. It was therefore surprising that Shwartzman was only 11th in Q2, while the sister car could only muster ninth. However normal service was resumed in the final run as Nielsen topped the times and secured overall pole.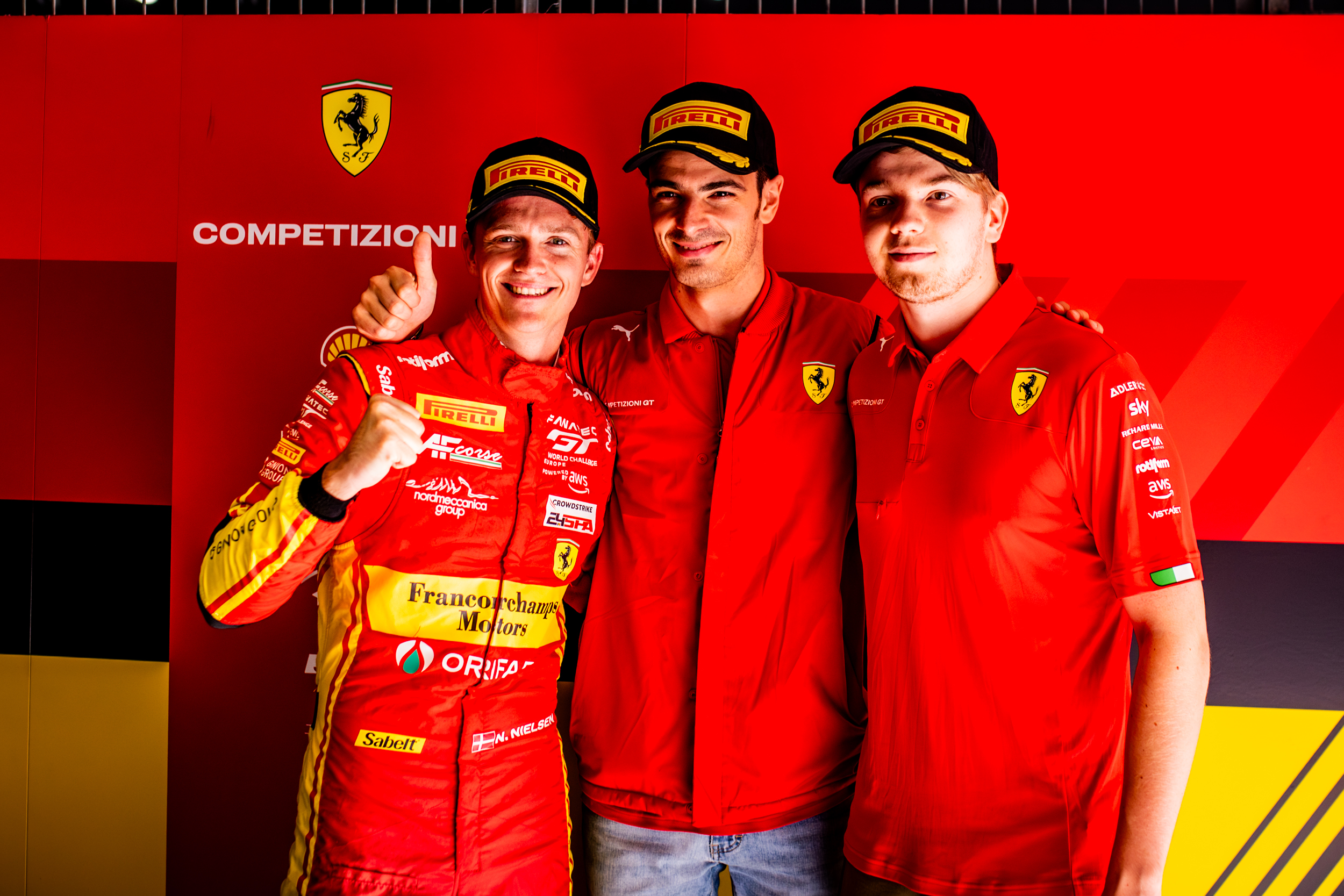 The #63 Iron Lynx Lamborghini will start second and the #71 Ferrari took third, hampered by a poor final session. Fourth went to the #777 Mercedes-AMG Team AlManar entry, followed by the #87 Akkodis ASP Mercedes-AMG, the #96 Rutronik Racing Porsche and the #54 Dinamic GT Porsche.
In terms of the championship battle, the #88 Akkodis ASP Mercedes-AMG took ninth – notably, Jules Gounon set the fastest time of the whole qualifying process – while the #98 ROWE Racing BMW was 13th. The latter must finish at least second this afternoon to have any chance of snatching the title.
Gold Cup pole went to the #19 Iron Lynx Lamborghini of Pierre-Louis Chovet, Michele Beretta and Leonardo Pulcini, who combined to secure an impressive eighth spot overall. Pure Rxcing earned Bronze Cup honours with the #911 Porsche of Alex Malykhin, Joel Sturm and Klaus Bachler placing 20th.
The Silver Cup pole-sitter will start three places back. Championship leaders Grasser Racing banked an important bonus point thanks to the #85 Lamborghini of Clemens Schmid, Glenn van Berlo and Benjamin Hites. ST Racing by Rinaldi took Pro-Am pole, aided by a fine P10 overall for Lorcan Hanafin in Q3. Samantha Tan and Issac Tutumlu Lopez also contributed to the #38 Ferrari qualifying 38th overall.
Live coverage of this afternoon's Endurance Cup finale will air on the GT World YouTube channel, with the green flag set to fly at 15:00 CEST.