+RESULT: Mobileye GT World Challenge Esports Europe Sprint Series, Barcelona
+FINAL STANDINGS: Mobileye GT World Challenge Esports Europe Sprint Series, After Rd5
George Boothby came out on top of a four-way fight to seal the 2023 Mobileye GT World Challenge Esports Europe Sprint Series title in a nervy final race at Barcelona.
While Boothby's second place ensured him this year's championship, the race-day laurels went the way of another Veloce driver, as Luke Whitehead became the fifth different overall winner this season, meaning each round featured a different victor – with four of them racing for different brands as Ferrari, McLaren, Mercedes-AMG and Porsche all celebrated outright successes this year.
Vojtech Fiala may have had his Silver class winning streak ended in Barcelona, but he still did more than enough to secure this year's class championship by some margin, sparking chatter of a move up to the Pro ranks for 2024.
Boothby's title success came amid a backdrop of trouble for the Mercedes-AMG runners, which opened the door for Boothby to vault from fourth in the championship coming into the race to eventually seal the title.
The first signs that we may be in for a title turnaround came during qualifying when championship leader Dominik Blajer could only manage 23rd on the grid as the leading Mercedes-AMG, with fellow title chaser Niklas Houben even further back in 32nd.
That trend continued in the race as the Circuit de Barcelona-Catalunya wasn't kind to the Mercedes-AMG brigade and all of them struggled to make too much forward progress.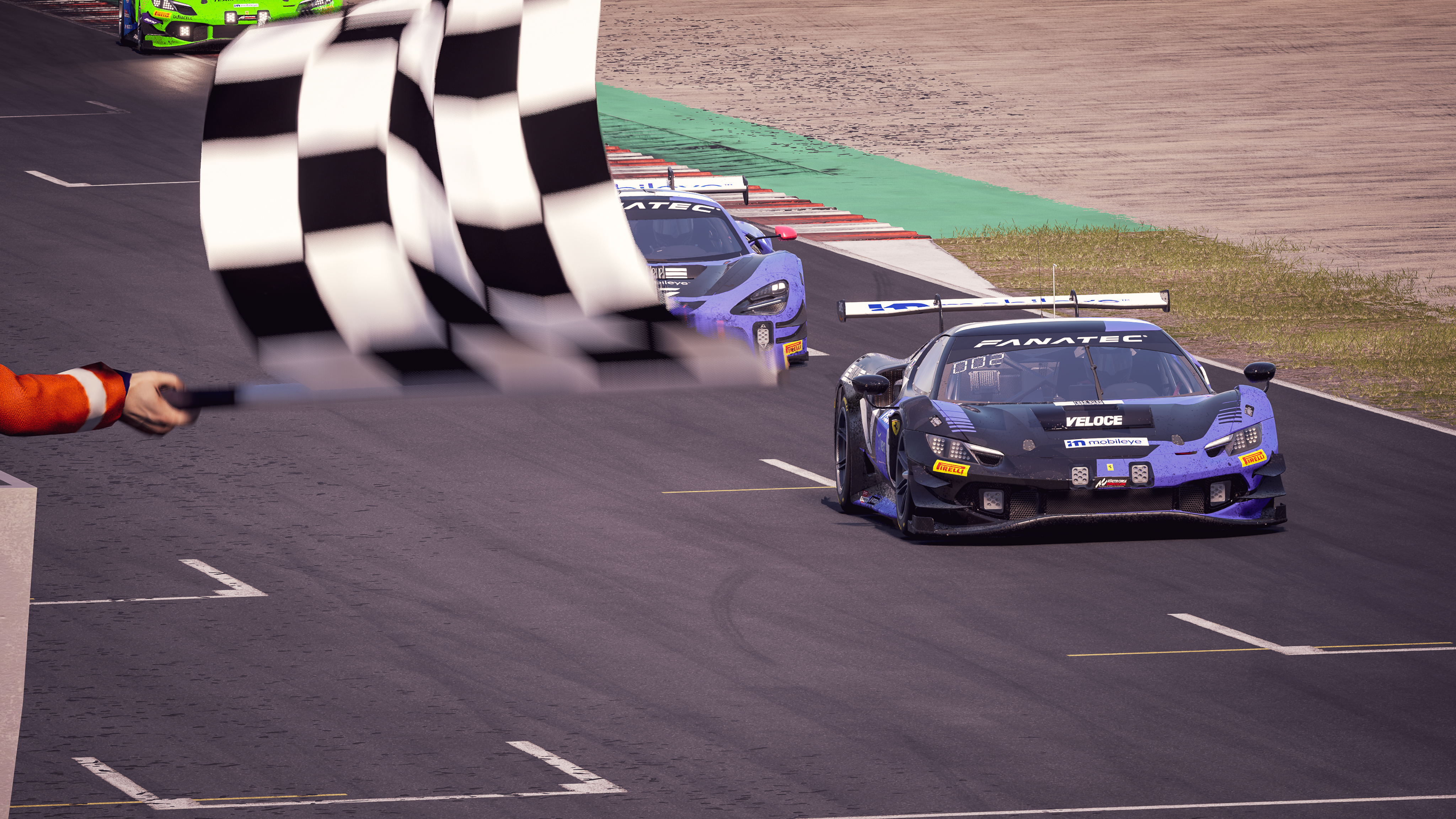 With the AMGs in trouble, Whitehead stormed to pole aboard the traction-heavy Veloce Porsche 992 GT3 R, just ahead of Grantas Kareckas' Veloce McLaren, Eric Del Fante's superbly driven Honda NSX – which secured Silver class pole by a mile – Tinko van der Velde's Ferrari and Boothby making it three Veloce drivers inside the top five.
That set the tone as Whitehead got away well to fend off Kareckas into turn one and then the top five settled into a train for the first half of race, with many opting to play things safe and tour clear of the rest of the field.
Behind, the pressure was on Blajer. He enjoyed a rocket start and was fortunate to escape some first-lap drama as the #5 Williams Esports AMG made its way up to 14th during the early stages, but that's as far as he could get by the time the pit window opened. Blajer completed his stop, but dropped a place while doing so, eventually crossing the chequered flag 15th overall and 10th in the Pro order, throwing the door wide open for the championship. Houben fared even worse and lost his title chance when he was nerfed around during the early laps and lost a heap of time. He'd be just 15th in class at the finish.
With two title contenders down, the momentum shifted. Mikhail Statsenko was the only other driver standing in Boothby's way, having qualified his ITB Saintéloc Racing Audi a solid eighth. But he struggled to stay in touch with the leading train, and eventually wound up eighth overall at the finish. Game on for Boothby.
Knowing any additional points would be crucial, Boothby stuck to the top three like glue, constantly pressuring Del Fante's Honda for third overall without wanting to risk a move on a rival that wasn't in the same class. When David Tonizza pitted early and emerged in a fight with Kareckas, both cars were delayed allowing Boothby to nip into the pits, complete his stop and undercut both Kareckas and Del Fante to secure second overall.
From then on it was cruise control, as Whitehead led superbly with champion-elect Boothby just behind, knowing he'd done enough. Kareckas completed the overall podium after shaking off the attentions of Tonizza, with van der Velde fifth ahead of the super-impressive Del Fante, who claimed his first Silver class win.
Maciej Malinowski was seventh ahead of Statsenko, who at least did enough to leapfrog Blajer in the standings and secure the championship runner-up spot. Dario Iemmulo was ninth and second in Silver, right ahead of the runaway championship leader Fiala, who simply kept things clean on his way to both a fourth podium finish from five races, and the Silver championship.
2023 Mobileye GT World Challenge Esports Europe Sprint Series champion George Boothby said: "It feels amazing because the last two rounds were so difficult. I underperformed and the car wasn't quite there, so that put me on the back foot. But I knew the potential was in the car so I grinded as much as I could to make the car as good as I could and just get into the fight, and this was always going to be a good track for me. The pit stops were pivotal for me as I got the undercut, and then it was about keeping it tidy and keeping my head. I just can't believe it's gone my way!"
The Mobileye GT World Challenge Esports Europe Sprint Series will return in 2024.