• Streets and city centre packed for traditional pre-event celebration
• More than 200 cars participate in biggest-ever parade
• Busy day ahead with four sessions scheduled for Thursday
The annual CrowdStrike 24 Hours of Spa parade brought the streets to life today (28 June) as thousands of enthusiastic fans created a carnival atmosphere on the route to the city centre.
The traditional overture to the world's biggest GT race featured a remarkable array of machinery. This was by no means limited to the GT3 equipment that will compete this weekend, with more than 200 cars making the trip from the circuit to Spa. Upon arrival they were parked in front of the theatre to give fans a closer look.
The stars of this year's CrowdStrike 24 Hours of Spa then signed autographs and gave on-stage interviews before heading inside the theatre for the biggest drivers' briefing of the season. This featured a special presentation as all of the event's overall winners from 2014 onwards recieved a replica of the historic Spa 24 Hours trophy.
The full list of entrants headlined the parade, representing a roll call of the world's premier GT manufacturers. With 15 cars Mercedes-AMG is the best-represented brand at this year's race, while its German rivals Audi, BMW and Porsche were all out in force, the latter bringing a new GT3 model for 2023.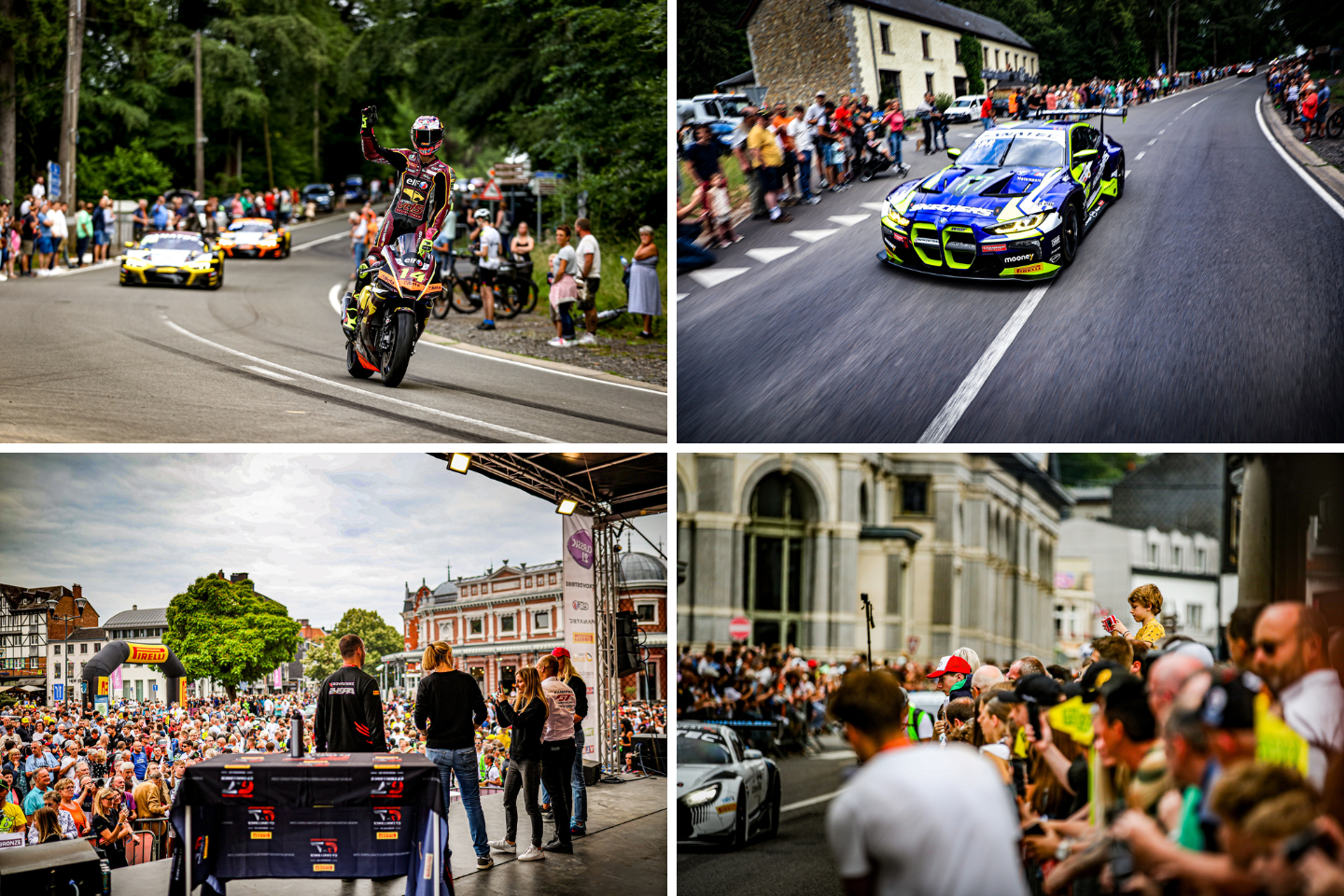 The same is true of Italian marques Ferrari and Lamborghini, both of which are well represented at this year's event. McLaren also has an upgraded machine and was joined by fellow British marque Aston Martin, completing the eight brands that make up the 70 participating GT3 cars.
Remarkably, this represented less than a third of the parade, with the 24 Hours hopefuls joined by a number of special guests. Among the very first to leave the circuit was the CrowdStrike F1 Safety Car, while the new Ford Mustang GT4 was also present having been launched just a few hours earlier in the CrowdStrike 24 Hours of Spa paddock.
Elf Marc VDS Racing Team added something different by participating with a pair of Moto2 replicas, while Audi Sport customer racing boss Chris Reinke drove the brand's title-winning GT2 challenger. As ever the support line-up was brilliantly represented, with full grids from McLaren Trophy Europe, Lamborghini Super Trofeo and the GT4 European Series Powered by RAFA Racing Club.
The day concluded with a return journey to the Spa-Francorchamps paddock in preparation for Thursday's on-track action. It promises to be a busy day, with four sessions set to take place between 11:20 and 00:30. With the parade complete, the start of the 75th CrowdStrike 24 Hours of Spa is drawing ever nearer.