Expanded partnership adds live coverage in Italy and Germany alongside existing UK agreement
Further new and continuing deals guarantee world-leading TV coverage
Free-to-air global livestream on various platforms, including GT World YouTube channel
Fanatec GT World Challenge Europe Powered by AWS will receive greater exposure than ever before this season thanks to an expanded list of television broadcast deals, including an enhanced agreement with Sky to air live coverage in the UK, Italy and Germany.
Fans will enjoy a wealth of options to follow the action when the new campaign begins with a three-hour Endurance Cup race at Imola on 1-3 April. Of particular significance, Sky will build on a partnership that began in the UK by adding Fanatec GT World Challenge Europe Powered by AWS coverage in Italy and Germany to its portfolio of world-class live motorsports events.
The Sky brand has been highly visible in the series during recent seasons thanks to its partnership with leading Pro-Am outfit Sky Tempesta Racing. Live coverage will be its primary focus in 2022, with additional highlights packages ensuring that each race receives comprehensive coverage. Full details regarding selected live events and commentary will be revealed in the run up to the opening race.
The enhanced Sky deal headlines a number of new and continuing TV agreements in the European market. After joining the list of broadcasters last year, MBC will once again air a combination of live coverage and highlights in a wide variety of nations, including France, Denmark and Spain, while Eleven Sports will take Fanatec GT World Challenge Europe Powered by AWS to Portugal and Poland.
The series will continue to expand its reach thanks to a new collaboration with Baltic Motorsport, which takes the series to Latvia, Lithuania and Estonia. What's more, as the season's marquee event the TotalEnergies 24 Hours of Spa will receive additional attention. Local broadcaster RTBF will extend its long-running partnership in Belgium, while AutoMoto La Chaîne will show live coverage in France.
As ever, the series will reach far beyond its Europe roots. The established partnership with CBS Sports Netword will ensure that Fanatec GT World Challenge Europe Powered by AWS continues to air as-live in the United States and Canada, while NSC TV will take coverage to Brazil and Garage TV will air in Latin America
Star Sports will extend its association by showing races live or as-live China. MBC will provide a similar service to a variety of nations such as Pakistan and Uzbekistan, while Astro TV will add several more countries, including Malaysia, Singapore and Thailand. The continued collaboration with the Asiavision network of channels will take highlights to another 11 territories and to millions more race fans, while the TotalEnergies 24 Hours of Spa will once again air live in Japan on J Sports.
Australian race fans will be able to watch highlights on Fox Sport, while in New Zealand TV3 will broadcast highlights throughout the season. MBC will carry the series to a wide variety of territories in the Middle East, including the United Arab Emirates and Qatar, while Azam TV's remit includes Saudi Arabia and Bahrain. In Africa, the continuing partnership with Supersport will show highlights to a wide range of nations across the continent, including South Africa, Nigeria and Ghana, while pan-African station Kwese provides a similarly extensive service.
In addition to these agreements, the international Motorvision platform will take live coverage and highlights to a vast number of countries and territories across the globe. A leading producer of automotive content, Motorvision's international reach encompasses Europe, Asia, the Middle East and Africa.
Of course, fans will also enjoy access to every racing lap of the 2022 season thanks to free-to-view web streaming across the Fanatec GT World Challenge Europe Powered by AWS website and social media platforms, including Facebook and the GT World YouTube channel. The same stream will be available through a host of other online outlets, such as Motor Trend on Demand and Motorsport.com.
MotorRacing will also join the list of online broadcasters this season, with its coverage available through wide variety of services on TV, mobile and tablet. Away from the live action, several global motorsport magazine programmes will feature Fanatec GT World Challenge Europe Powered by AWS throughout 2022. These include Mobil 1: The Grid, Sports Unlimited, and Motorsport Mundial MaxPower.
Once again, comprehensive television broadcasting and live web streaming have been put in place for the year ahead. Indeed, every fan will have the opportunity to follow the action from start to finish in what promises to a thrilling 2022 season for Fanatec GT World Challenge Europe Powered by AWS.
___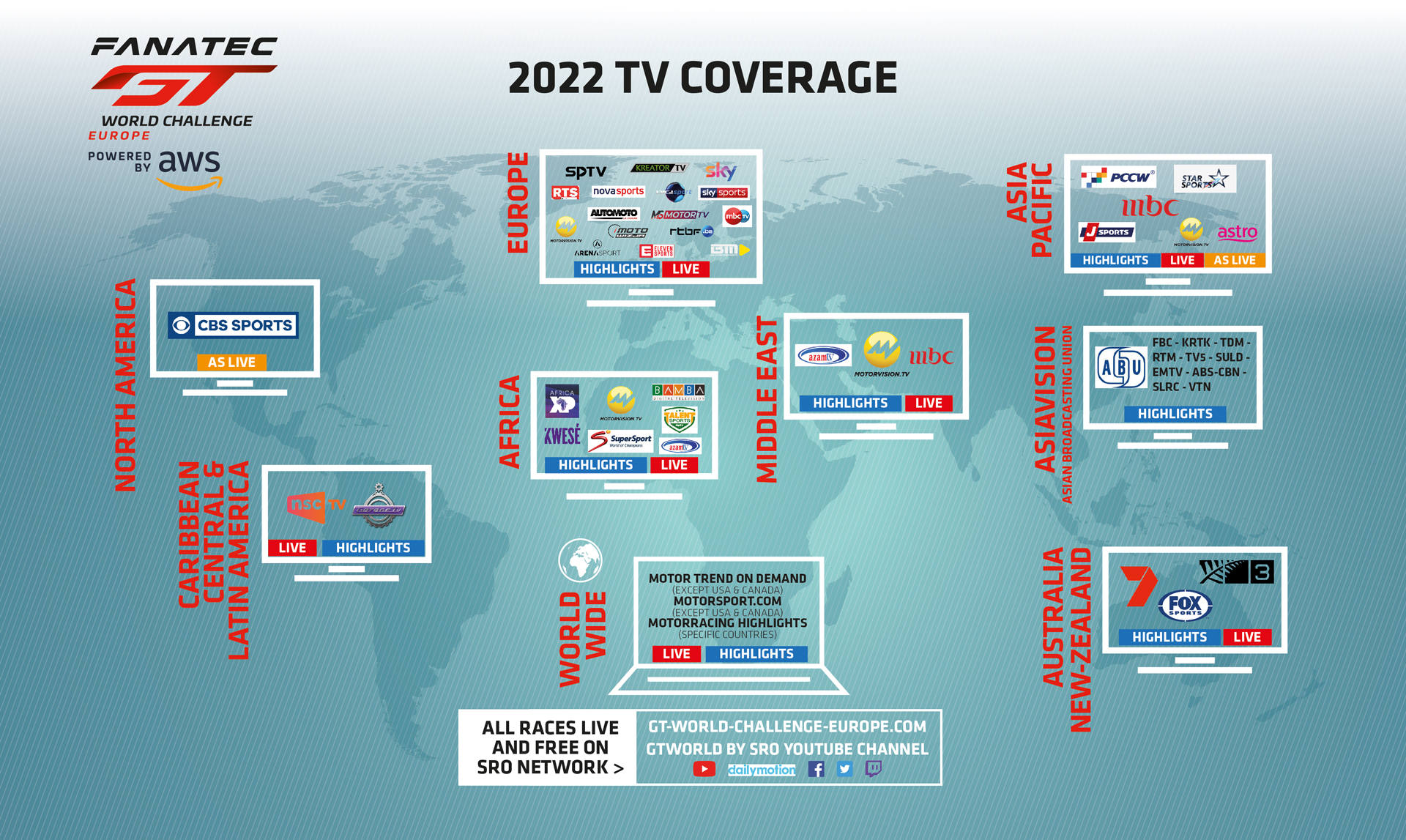 ___