After a long spell during which its fiercest rivals dominated the event, the past few editions of the TotalEnergies 24 Hours of Spa have witnessed a spectacular comeback by Porsche.
It began in 2019 when the brand's commitment to securing victory paid of handsomely. Six of its 911 GT3 R machines were entered in the Pro category, five of which finished among the overall top-10. What made this all the more impressive was that a record-breaking 72 cars took the start of the race.
The #20 GPX Racing Porsche proved to be the best of them. It was the star of the first hour with Kevin Estre working wonders at the wheel, then fought back from a drive-through penalty to be among the top-10 when morning arrived. At this stage heavy rain was falling over the circuit, making driving conditions near-impossible. A red flag flew shortly after 05.40 and lasted until 11.15.
The #20 GPX Porsche really came alive again shortly before the 22-hour mark, first passing the #4 Mercedes-AMG Team Black Falcon and then the #1 Audi Sport Team WRT. This was effectively the winning move and rewarded the fledging GPX squad and its accomplished crew of Estre/Lietz/Christensen with victory. The #998 ROWE Racing Porsche finished as runner-up to spark jubilant celebrations back at Stuttgart.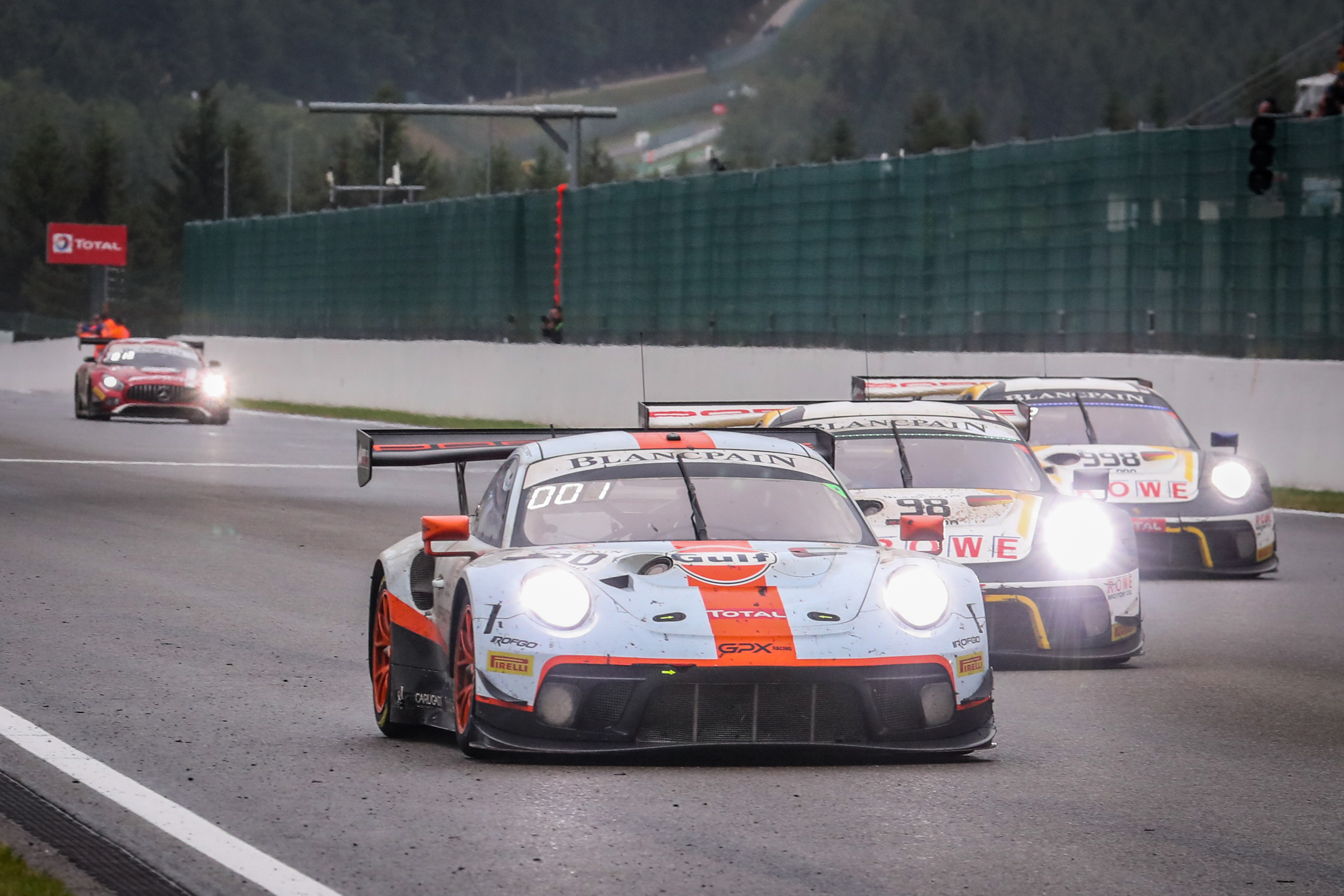 The #97 Oman Racing with TF Sport Aston Martin put in a phenomenal performance to take Pro-Am honours. Starting the race from the pit lane, 30 places behind the class pole-sitter, the car stormed through to lead at both six and 12 hours, then ran faultlessly to the finish. By this stage, it was a lap clear of his closest contender.
Barwell Motorsport took Silver Cup honours with its #78 Lamborghini, fending off a strong challenge from the #90 AKKA ASP Mercedes-AMG, while Am Cup honours went to the #33 Rinaldi Racing Ferrari. Barwell was involved in this fight, too, as its #77 machine battled the Rinaldi car until the final hour.
NUMBERS
• Laps: 363
• Starters: 72
• Winning margin: 3.347 seconds
• Pole: 2m18.588s (#4 Mercedes-AMG)
• Fastest lap: 2m20.146s (#117 Porsche 911 GT3-R)
STATS
• New GT era record of 72 cars at the start
• Shortest GT era distance (363 laps completed)
• Smallest GT era winning margin (3.347 seconds)
• 0.017s gap separtes first and second in Super Pole, matching 2015
• First Appearance: Charles Weerts, Christina Nielsen, Aston Martin Vantage AMR
• Last Appearance: Marc Duez, Nissan GT-R, M-Sport Team Bentley, Markus Palttala