Emil Frey Racing score maximum real-world Teams' points
Tomita wins Silver Cup class for Team WRT
Result: Qualifying
Result: Race
Emil Frey Racing scored maximum real-world Teams' Championship points in the opening round of 2021's Fanatec Esports GT Pro Series this evening at Monza where Arthur Rougier (Lamborghini) overcame Dani Juncadella (AKKA ASP, Mercedes-AMG) in the virtual 60-minute sprint race.
Team WRT and Audi also hold a narrow lead in the Silver Cup Teams' standings thanks to Ryuichiro Tomita who climbed 11 places to finish fourth overall and first in class.
Nicklas Nielsen (Iron Lynx, Ferrari) completed the overall podium, while Ezequiel Perez Companc (Madpanda Motorsport, Mercedes-AMG) and Benjamin Hites (Rinaldi Racing, Ferrari) rounded out the Silver Cup points scorers in fifth and seventh overall.
Incredibly, less than 0.5s covered the top-12 in qualifying, while the first 23 cars were separated by just 1.4s.

A NEW ESPORTS ERA BEGINS WITH A BANG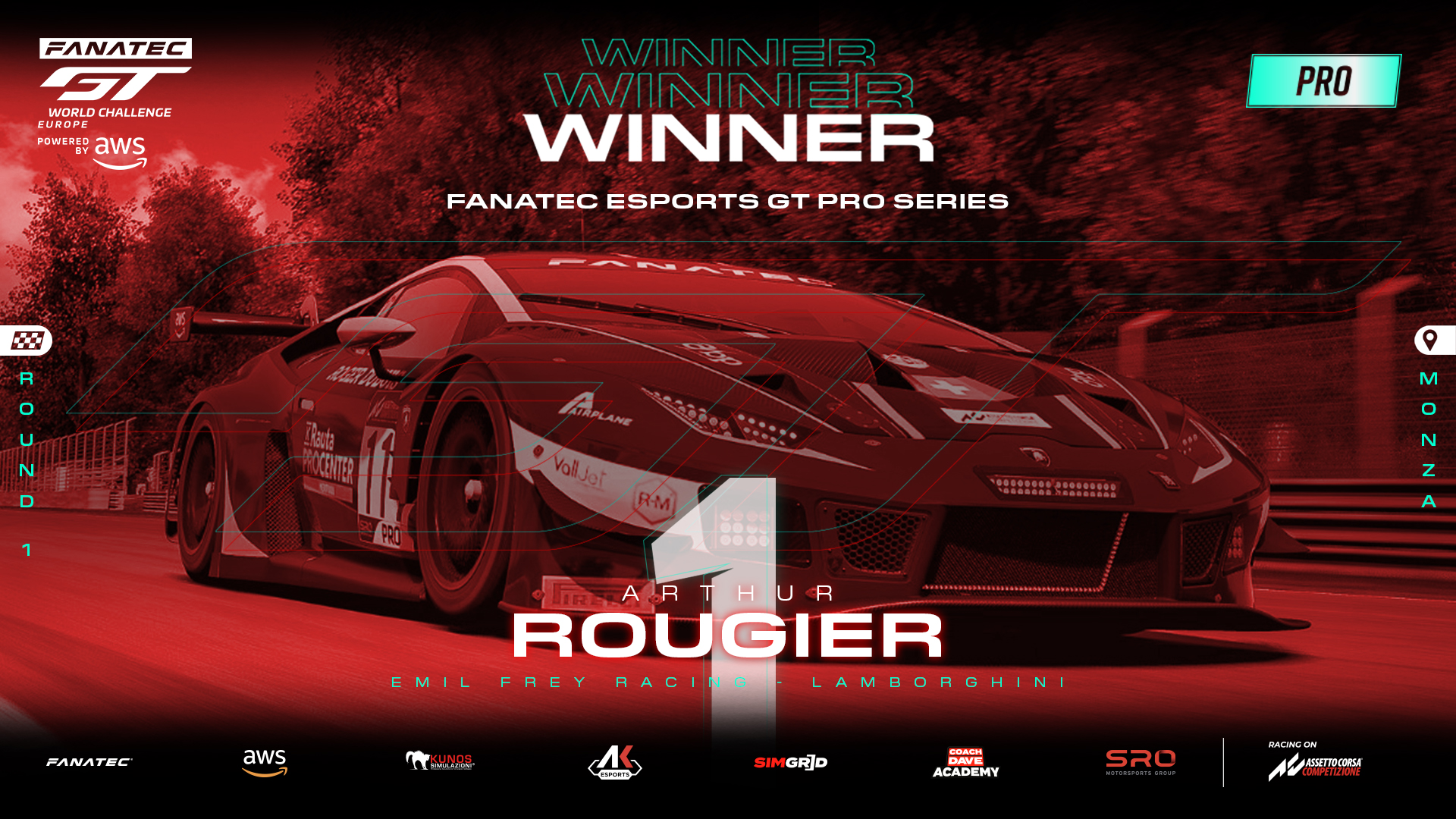 Identical qualifying times to the nearest thousandth laid the foundations for a thrilling scrap between Arthur Rougier and Dani Juncadella in this year's first Fanatec Esports GT Pro Series event, which was held inside Monza's paddock at the purpose-built Fanatec Arena.
But while the Spaniard claimed pole by dint of setting his fastest time first, it was the Lamborghini that entered Turn 1 ahead.
By contrast, Juncadella was fortunate to survive contact with Philip Ellis who – having started third – was now facing the wrong way as the pack streamed through the first chicane. That triggered further incidents that also put paid to the hopes of row three counterparts Marvin Dienst and Thomas Drouet.
Back at the front, Juncadella made amends for his slow getaway by first relieving Ezequiel Perez Companc of second at the start of lap two and then setting off in pursuit of Rougier.
The pair were soon in a race of their own and often separated by less than a second as the clock ticked towards half-distance. Then, with the pit window about to close, Juncadella swept past into Turn 1.
The pair re-joined in the same order as they'd pitted, but any hopes Juncadella might have harboured of bolting clear were immediately dashed by Rougier who was able to stick with the Mercedes-AMG. And the pressure finally told with 17 minutes remaining when a slight mistake at Parabolica helped the Lamborghini draw alongside down the start/finish straight and ultimately make the race-winning move stick into Turn 1. Indeed, several quick laps thereafter were sufficient to break Juncadella's resolve.
Behind, the fight for the final overall podium place was now between Nicklas Nielsen and Ryuichiro Tomita who'd both earlier demoted Companc to fifth. The Ferrari made its stop before the pursuing Audi, but it was WRT who emerged ahead. Nielsen wasn't finished, though, and re-took third overall following a lengthy scrap with his Japanese rival.
Pride aside it made little difference to the real-world consequences: Nielsen still bagged the final Pro Teams' point and Tomita won the Silver Cup class.
Companc's reasonably lonely but also trouble-free race resulted in fifth overall and second in Silver, while GPX Racing's Matt Campbell powered his way from 12th on the grid to sixth overall thanks – in part – to a particularly eye-catching pass on Kelvin van der Linde.
Benjamin Hites was another to make up significant ground during the race. 23rd at the end of lap one, Rinaldi Racing's Ferrari ultimately claimed the final Silver Cup point in seventh overall despite banging doors with Van der Linde with less than three minutes remaining. WRT's Pro Audi also survived to round out the top-eight ahead of pitlane starter Mirko Bortolotti and Walkenhorst's BMW driven by David Pittard.
The Fanatec GT World Challenge Europe Powered by AWS season opener takes place on Sunday before more virtual (and real) Teams' Championship points are awarded at Circuit Paul Ricard on May 28-30.