The 66th edition of the Total 24 Hours of Spa – celebrating the 90th anniversary of the endurance classic – will see 61 cars on the entry list. With only a couple of days left before the first on-track action for the highlight of the Blancpain Endurance Series almost all the teams have completed their driver line-ups. The Belgian classic will see former F1 drivers, endurance aces and promising young talents at the start of what promises to be a unforgettable edition of the Total 24 Hours of Spa. A round up of the latest additions to the entry list.


Pro Cup
Even though most of the Pro Cup teams had determined their line-up at the official test day for the Total 24 Hours of Spa, the last couple of weeks have seen some high level names added to the entry list.
Considering the fierce competition from Belgian Audi Club Team WRT, Saintéloc Racing, M-Sport Bentley, ART Grand Prix, Oman Racing Team and the BMW Sports Trophy Team Marc VDS, last year's winners HTP Motorsport will field a third Mercedes SLS AMG. It will be driven by the two "Maxi's", Buhk and Götz. The German pairing – at the wheel of the car that crossed the line in first in 2013 – will be joined by Malaysian single seater ace Jazeman Jaafar. The Formula Renault 3.5-driver will make his sportscar debut at Spa. On the #85 HTP Motorsport Mercedes Dutchman Xavier Maassen will join Sergei Afanasiev and Stef Dusseldorp. Maassen, currently leading the Benelux Porsche GT3 Challenge, will start his 7th Total 24 Hours of Spa, having finished 9th last year.
Maassen and Dusseldorp will welcome their Dutch countryman Yelmer Buurman to the Pro Cup. Buurman shares the Black Falcon Mercedes with Briton Adam Christodoulou and Frenchman Mike Parisy. The latter took the Black Falcon machine to a second place finish in the 2012 Nürburgring round of the Blancpain Endurance Series.
There will be a premiere at Spa for the Audi R8 LMS ultra of Czech squad ISR Racing. The car will be raced for the first time, in the experienced hands of Germans Marc Basseng and Fabian Hamprecht, together with Czech ace Filip Salaquarda.
McLaren can count on an extra car in the Pro Cup as well, with Von Ryan Racing entering a MP4-12C for Britons Tim Mullen and Rob Bell, who will be joined by Kiwi Shane Van Gisbergen. The V8 Supercars-star made his endurance debut earlier this season, but this will be the first time he will tackle the legendary Spa-Francorchamps track.
Pro-Am Cup
Van Gisbergen will meet his V8 Supercars-rival Craig Lowndes in the Belgian Ardennes, but the 40-year-old Australian has some experience on the Francorchamps circuit, having raced a F3000 around the 7 km track, back in 1997. Lowndes is one of thirteen Platinum drivers participating in the Pro-Am Cup, all of them trying to boost the chances of their respective teams for a class victory and – who knows – an excellent performance overall. Among the thirteen Platinum drivers there are two of five former F1 drivers present in Spa (Giorgio Pantano and Pedro Lamy), a double Total 24 Hours of Spa winner (Andrea Bertolini), an Indy Lights champion (Tristan Vautier), endurance and GT stalwarts (Darren Turner, Marco Bonanomi, Olivier Pla and Alessandro Pier Guidi), former F3 aces (Marko Asmer, Alexander Sims and Daniel Zampieri) and last year's Total 24 Hours of Spa's pole sitter (Stefan Mücke) as well. Add to that a multiple Super GT-champion (Masataka Yanagida) and several Nissan Playstation GT Academy winners (Wolfgang Reip, Mark Shulzhitskiy, Miguel Faisca, Nick McMillen and Florian Strauss) and you should not be surprised if you see a car of the Pro-Am Cup challenging the Pro Cup machines.
Among the Pro-Am Cup entrants there are some teams that solely focus on the Total 24 Hours of Spa. The Belgian fans will certainly cheer on the #4 Belgian Audi Club Team WRT entry, a car which has moved from the Gentlemen Trophy to the Pro-Am Cup. Blancpain Endurance Series regulars Jean-Luc Blanchemain and Christian Kelders are joined by former Spa winner Fred Bouvy and former BTCC driver and multiple touring car champion Vincent Radermecker. Cars from Black Falcon (Mercedes SLS AMG), MRS Molitor (McLaren MP4-12C), PGF Kinfaun (Aston Martin Vantage) and Wochenspiegel Team Manthey and Fach Auto Tech (both Porsche 997 GT3 R) bring the total number of Pro-Am entries to 32. Impressive, to say the least.
Gentlemen Trophy
This year, all three Blancpain Endurance Series races saw the same car winning the Gentlemen Trophy: the #458 GT Corse by Rinaldi Ferrari. Alexander Mattschull is the only driver on the car who can make it four in a row, sharing the bright green 458 Italia with Pierre Ehret, Tim Müller and Roger Grouwels. Other notable and recent additions are a second Ferrari for Duqueine Racing and the Porsche of Belgian Delahaye Racing, with the experienced Stéphane Lemeret on board. Lemeret was three times runner-up in the Total 24 Hours of Spa, the last time in 2009, when one of his team-mates on his Maserati MC12 was Carl Rosenblad. The Swedish driver is now one of Lemeret's rivals in the Gentlemen Trophy, being one of the recent entries on the Team Parker Racing Audi, sharing the car with former British GT-champion Leo Machitski.
Norbert Bruckner (HTP Motorsport team manager): "Jazeman Jaafar convinced our engineers immediately by his enormous base speed and we agreed that he was a good choice for our team."
Filip Salaquarda, (#75 ISR Racing Audi): "This is a huge challenge for us because we're fielding this car with our own team for the first time in a 24-hour race."
Shane Van Gisbergen (#101 Von Ryan Racing McLaren): "I've done a few laps on the simulator to learn Spa, but you never get the elevation changes and obviously Eau Rouge and other places are quite steep, so you never know until you do it in person."
Giorgio Pantano (#15 Boutsen Ginion McLaren): "With my experience of the McLaren GT3 car and the well established organisation of Boutsen Ginion Racing and my team-mates, I am confident we can collectively get the car to where it belongs…..at the front of the grid."
Craig Lowndes (#52 AF Corse Ferrari): "The combination of a Ferrari and the Spa circuit really is a dream come true."
Wolfgang Reip (#80 Nissan GT Academy Team RJN Nissan): "We should aim for at least a podium finish in the Pro-Am Cup."
____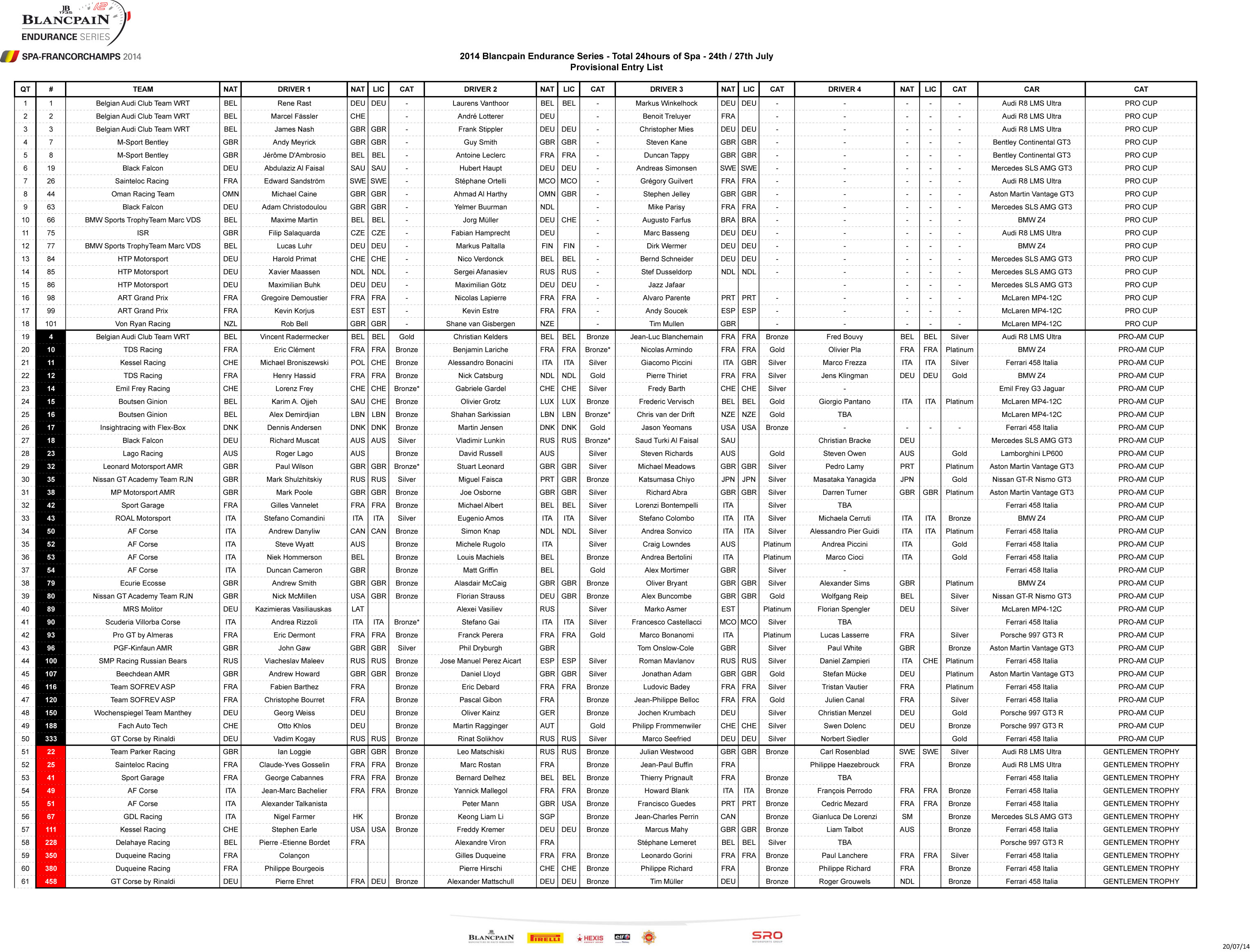 _____
Practical information - Total 24 Hours of Spa
When: 23 - 27 July 2014
Tickets: from 15 euros, 4-days pass : 30 euro general entry, 60 euro paddock entry
Children of 12 years old or younger, accompanied by an adult, will have free entry to the track.
New this year: a Family Pack, consisting out of four general entries and paddock for two adults and two adolescents (12-18 yrs.). One ticket for four persons, age will be checked at the entry gates.
Race Week
Wednesday 23 July : Parade, 16:00
Thursday 24 July : Pre qualifying, 18:40
Qualifying, 20:45
Night Qualifying , 22:30
Friday 25 July : Super Pole, 18:45
Saturday 26 July : Start of the Total 24 hours of Spa,16:30
Information and reservation: www.total24hours.com / www.blancpain-gt-series.com
Facebook : Total 24 hours of Spa / Twitter : @24hoursofspa / @blancpaingt
-----
Blancpain
Over 275 years of tradition in motion :
Founded in 1735 by Jehan-Jacques Blancpain, the watch brand bearing his name is the oldest in the world. Blancpain is currently engaged to the renewal of mechanical watchmaking and to passing on exceptional expertise from one generation to the next through constant investment in human resources, production facilities and research. This approach is its strength and the expression of our long-term vision, even though it goes against the tide of a certain tendency to seek immediate profit. From the creation of components through to watch design, Blancpain is distinguished by its ability to develop exceptional movements. Over the past nine years, the Manufacture has indeed developed no less than 32 new calibres.
Through its various models, Blancpain preserves its heritage of precision and elegance, while also displaying an innovative and occasionally provocative spirit. Its range encompasses the sportive L-evolution line, the legendary Fifty Fathoms diver's watch, as well as the classic Villeret collection, the high complication from Le Brassus collection and the Women models.
--
Pirelli – Official Tyre Supplier
Pirelli is a tyre manufacturer and world leader in the automotive industry. It has an exclusive relationship with over 50 racing series worldwide, including Formula One.
Pirelli has a long and illustrious history in endurance racing, and has also claimed a huge variety of class wins in GT racing all over the world. The design of the new Pirelli GT tyres meets the needs of GT racing while maintaining the performance characteristics that endurance drivers have appreciated in the past.The slick tyres used for GT racing are branded Zero: just like the slicks that have become a central feature of Formula One. The name P Zero is used in the highest categories of motorsport such as GT racing.
--
Total
With operations in more than 130 countries, Total is a top-tier international oil company and a world-class natural gas operator, refiner and petrochemical producer. Our 97,000 employees leverage their acknowledged expertise to discover, produce, refine and convert oil and gas to provide products and services for customers worldwide. We are also broadening our offer by developing energies that can partner oil and gas — today, solar energy and tomorrow, biomass.
In Belgium, our Group possesses a long history as an energy supplier and is mainly active in the chemical and refining sectors, together with marketing and service activities, employing some 4500 people. As the market leader, Total Belgium is known to respond to its clients' needs, and brings innovative solutions through its products and services. Total helps its clients to reduce consumption in a better and more efficient way, through a varied range of products like the Excellium fuel, the Fuel Economy lubricants, fuel oil and wood pellets for heating, aviation fuel, super, diesel, LPG, asphalt, lubricants…
____
SRO Motorsports Group
SRO Motorsports Group was founded by Stephane Ratel and has specialised in the promotion, support and organisation of many national and international motorsport series since 1995.
In 2014, SRO promotes several championships and series, such as the Blancpain GT Series with the Blancpain Sprint Series and the Blancpain Endurance Series, including the iconic Total 24 hours of Spa, the Cooper Tires British F3 Championship, the Avon Tyres British GT Championship and has various franchise agreements including the GT4 European Series.
SRO has offices in London, Paris and Liège.