Akkodis ASP will start this afternoon's Fanatec GT Europe Endurance Cup race from pole position after edging a rain-drenched qualifying session at the Nürburgring.
The #88 Mercedes-AMG went head-to-head with the #63 Iron Lynx Lamborghini in the battle for top spot, prevailing by 0.130s to clinch a crucial bonus point in the battle for the Endurance championship.
Qualifying began on a drenched circuit after heavy rainfall hit the Nürburgring in the hour before the green flag. Raffaele Marciello delivered a typically assured Q1 performance in the #88, beating Mirko Bortolotti in the #63 Lamborghini by 0.257s.
Timur Boguslavskiy edged Akkodis ASP further clear in Q2, posting the eighth best time while the #63 of Andrea Caldarelli could only manage 16th.
The gap now seemed insurmountable, but Jordan Pepper kept things interesting in the drying final session, delivering a strong Q3 performance in the Lamborghini while Gounon struggled on his first flying lap. After an off-track moment the French-Andorran regrouped and the Mercedes-AMG had enough speed to complete the job, finishing Q3 in eighth spot.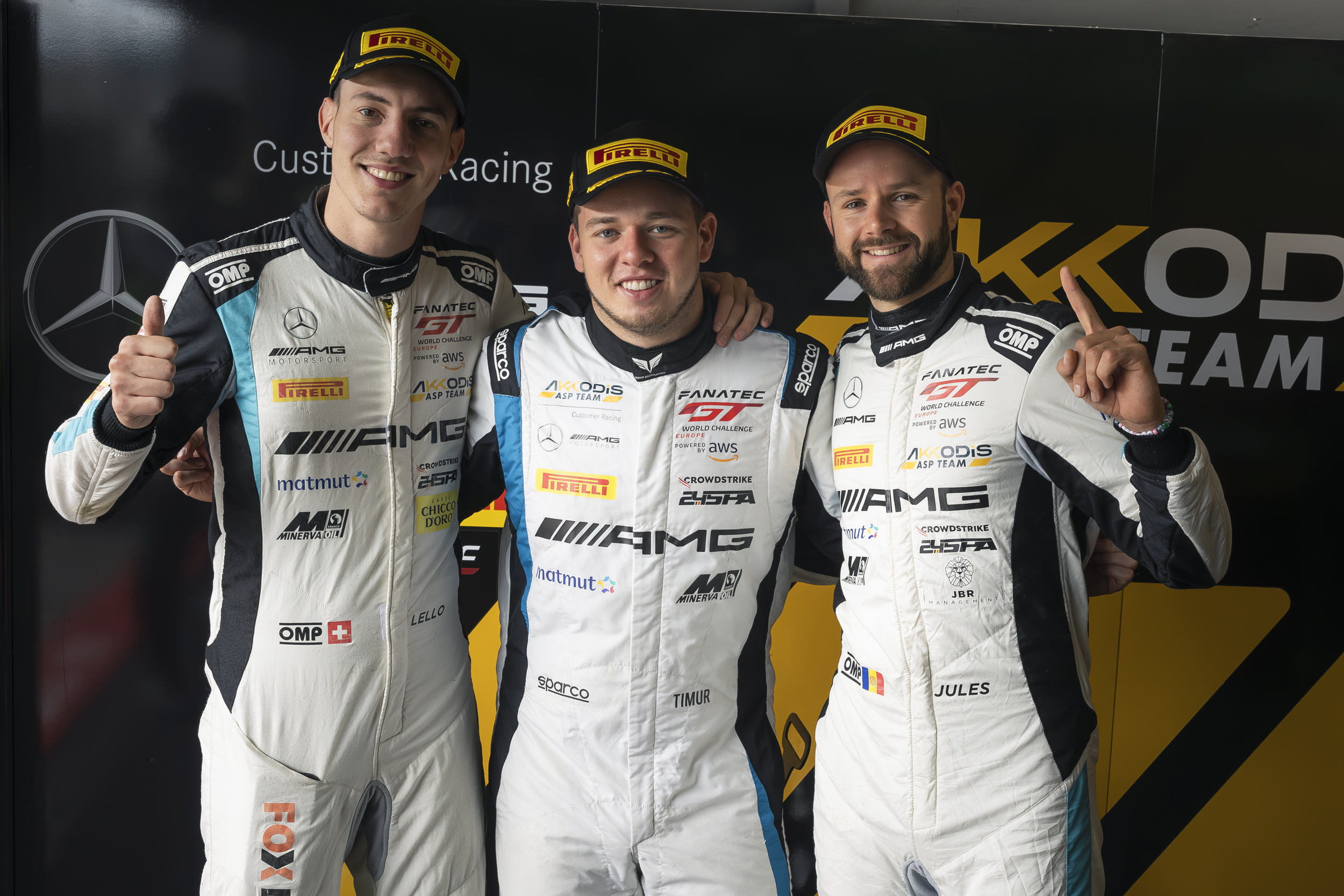 Mercedes-AMG locked out the second row with the #777 AlManar entry qualifying ahead of the #87 Akkodis ASP car. The former was quickest overall in Q3 courtesy of Fabian Schiller.
Audi was also represented in the top-10 by the #40 Tresor Orange1 (P5), the #25 Saintéloc Junior Team (P8) and the #11 Comtoyou Racing (P9). The best of the BMW contingent was the championship-leading #98 ROWE Racing crew in 10th.
Gold Cup pole went to the #157 Winward Racing Mercedes-AMG of David Schumacher, Miklas Born and Marius Zug. The latter was second fastest overall in Q3, helping to secure his crew seventh on the grid for this afternoon's race.
Iron Dames took Bronze Cup honours and snatched a mighty P14 overall. The team's Bronze driver, Sarah Bovy, was 12th overall in Q2, while Michelle Gatting and Rahel Frey also delivered strong showings.
The Pro-Am pole-sitter will start 27th overall after an impressive morning's work by Barwell Motorsport. The #78 Lamborghini was already clear of its rivals after Rob Collard ran in both Q1 and Q2, while pro driver Dennis Lind adding the finishing touch by finishing P4 overall in Q3.
In the Silver Cup, Grasser Racing boosted its title push by taking P1 with the #85 Lamborghini of Clemens Schmid, Benjamin Hites and Glen Van Berlo, who qualified 32nd overall. The bonus point edges them to within five of the class leaders.
This afternoon's three-hour race gets underway at 14:45 CEST, with dry conditions expected after the rain-soaked qualifying. Watch the action live on the GT World YouTube channel, with streams available in English, French, German and Italian.