Hour 17
* 30-second time penalty for the Silver leader. And that's enough to likely drop Tresor Orange1's Audi behind the chasing Comtoyou car at the next round of stops.
* Engstler runs wide at Eng is through into the lead! ROWE's FCY pitstop has put the BMW on an alternative stratey to the rest but Eng's pace has also made the difference over the last hour or so.
* Class battles continue to fluctuate. The Herberth and Pure Rxcing Porsches are swapping the Bronze lead in 12th and 13th overall, while SunEnergy1's Mercedes-AMG has moved back ahead of Pro-Am rival Car Collection. Silver is also shuffling but Comtoyou's Audi remains the de facto leader.
* The stranded #89 AKKODIS ASP Mercedes-AMG triggers a short FCY period. ROWE pits #98 about 20 minutes early hoping to take advnantage, but the caution is short lived and Eng emerges in 12th.
Hour 16
* Audis continue to run one-two and Porsches three-four, but Rutronik's 911 is now ahead of Manthey EMA's. Estre's error at the Bus Stop gave Heinrich a run out of La Source and into Eau Rouge. Behind, ROWE's BMW is back within 30 seconds of the lead after serving the same time penalty at its last pitstop. #98 is well and truly in the mix on pace alone.
* Class leaders with 7h30m remaining:
OVERALL: #17 Scherer Sport PHX Audi
GOLD: #5 Optimum Motosport McLaren (8th overall)
BRONZE: #911 Pure Racing Porsche (16th overall)
SILVER: #99 Tresor Orange1 Audi (19th overall)
PRO-AM: #24 Car Collection Audi (28th overall)
* Marschall hands the second place Audi over to Feller just as Wittmann was looking to pounce. The BMW is in next time around and has an extra 30 seconds to serve for exceeding its track limits quota. There's still almost eight hours remaining but that could ultimately prove very costly for ROWE's sole remaining M4.
Hour 15
* That's two-thirds distance all-but complete and there's just 0.3s between the leaders! Thiim is all over the back of Marschall, and Wittmann is only five seconds further back.
* Thiim's taking time out of Marschall. The latter led by 20 seconds at the start of his stint but Scherer's Audi is within six seconds now. ROWE's BMW runs third but is also withing 10 seconds of the lead now.
* Pure Rxcing's Porsche has been a Bronze class front runner all day and is now back ahead of Herberth's 911. Sky Tempesta's McLaren lies third after its pitstop, and all three are inside the overall top-20. Cracking efforts all round.
* Stint of the race so far? Drudi pulls 11 seconds on Van der Linde before handing Tresor Orange1's Audi over to Dennis Marschall. But Thiim is now aboard Scherer's R8 and closing back in again. Game on!
Hour 14
* Back to green. The overall top-four features Porsche, Merc, Audi and Lambo. Well, it did briefly! Stolz tags Engelhart into La Source and spins the Porsche around. Drudi is the chief beneficiary and Kelvin van der Linde is also through.
* FCY | Beretta's Iron Lynx Lambo has found the gravel at Campus. Cue a flurry of pitstops in and out of sequence. However, Engelhart has retained the lead from Stolz - who didn't stop - Drudi and Perera.
* 14 hours gone, 10 more to go. There are so many strategies at play that it's impossible to say who's actually leading on merit! Drudi has just pitted Tresor Orange1 Audi from the lead, moving Dinamic's #54 Porsche into the lead for now. However, Engelhart also owes us a stop.
* 10h48m remain as we finally go back to green. Akkodis ASP pitted Marciello at the start of the Safety Car's final lap so it's Nick Yelloly who leads Luca Engstler, Augusto Farfus and Laurens Vanthoor into La Source. The other class leaders are:
GOLD: #30 WRT BMW (13th overall)
BRONZE: #188 Garage 59 McLaren (15th overall)
SILVER: #99 Tresor Orange1 Audi (24th overall)
PRO-AM: #888 CSA Racing Audi (35th overall)
* Here is that long-awaited safety car. Flashing orange lights on an Audi never looked so good.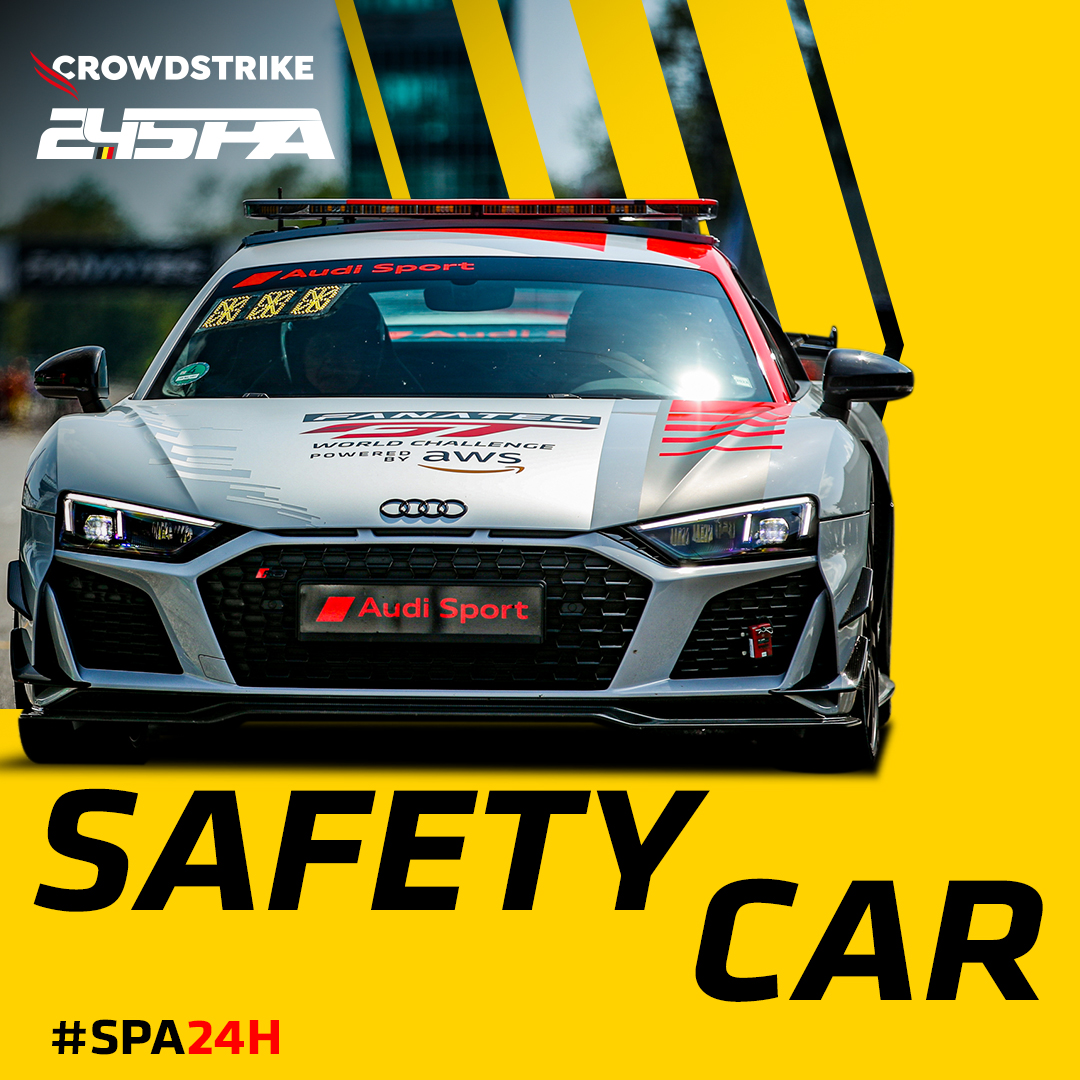 ---
Hour 13
* We're coming up on two hours of full-course yellow but it's about to become a safety car. After that we'll have a wave-by followed by a resumption of racing.
* A few stops have been taken and it's now the #40 Audi is back on top from the #88 Mercedes-AMG. They're both 35-ish minutes into their respective stints.
* It would be remiss of us not to mark the fact that the #46 Team WRT BMW leads this race overall. Augusto Farfus is behind the wheel at the moment.
* The #98 BMW leads overall. The #30 BMW has the advantage in the Gold Cup. Silver is the #12 Audi and Bronze still the #188 Garage 59 McLaren. The #888 Audi holds a slender advanatge in Pro-Am.
* There's a fair amount of light appearing in the skies above Spa-Francorchamps. For those keeping score, we've been running to full-course yellow speed for one hour and 20 minutes.
* Can't say for absolutely certain, but it seems that most if not all cars have or are in thre midst of completing their technical pit stops.
* Having banked second-place points at half-distance, the #88 Mercedes is now completing its technical pit stop.
* We're still under full-course yellow conditions. Estimated barrier repair time now stands at 20 minutes. We'll then go to the safety car followed by a wave-by.