Fanatec GT World Challenge Europe Powered by AWS drivers set to do battle in GT Pro Series with real-world points on the line
Madpanda Motorsport was the team to beat at Monza: can Nesov do the double?
Mercedes-AMG Esports Team HRT by UOL leads the way in SIM Pro: Pfeffer returns gunning for more glory
The best GT3 drivers on the planet – both real-world and virtual – will gather once more to showcase their skills on Assetto Corsa Competizione as the SRO Esports season heads into round two at Circuit Paul Ricard in Southern France this weekend.
In the Fanatec GT Pro Series, the drivers from the Fanatec GT World Challenge Europe Powered by AWS paddock will swap the demands of the real-world 5.842km circuit for the virtual version as 24 drivers go head-to-head in an effort to earn vital points boosts for their respective teams in the Endurance Cup Teams' Championship.
Following its thrilling first-ever race at Monza back in April, the new SRO Esports SIM Pro contest promises to pick up where it left off, boasting an entry list packed with the world's leading GT3 sim drivers, fighting for both championship points and a share of a hulking €75,000 prize fund.
Both series will hold their races direct from the heart of the Fanatec GT World Challenge Europe Powered by AWS paddock, with the impressive Fanatec Arena staging GT Pro on Friday and then SIM Pro on Saturday, with the real-world Circuit Paul Ricard 1000km as its backdrop.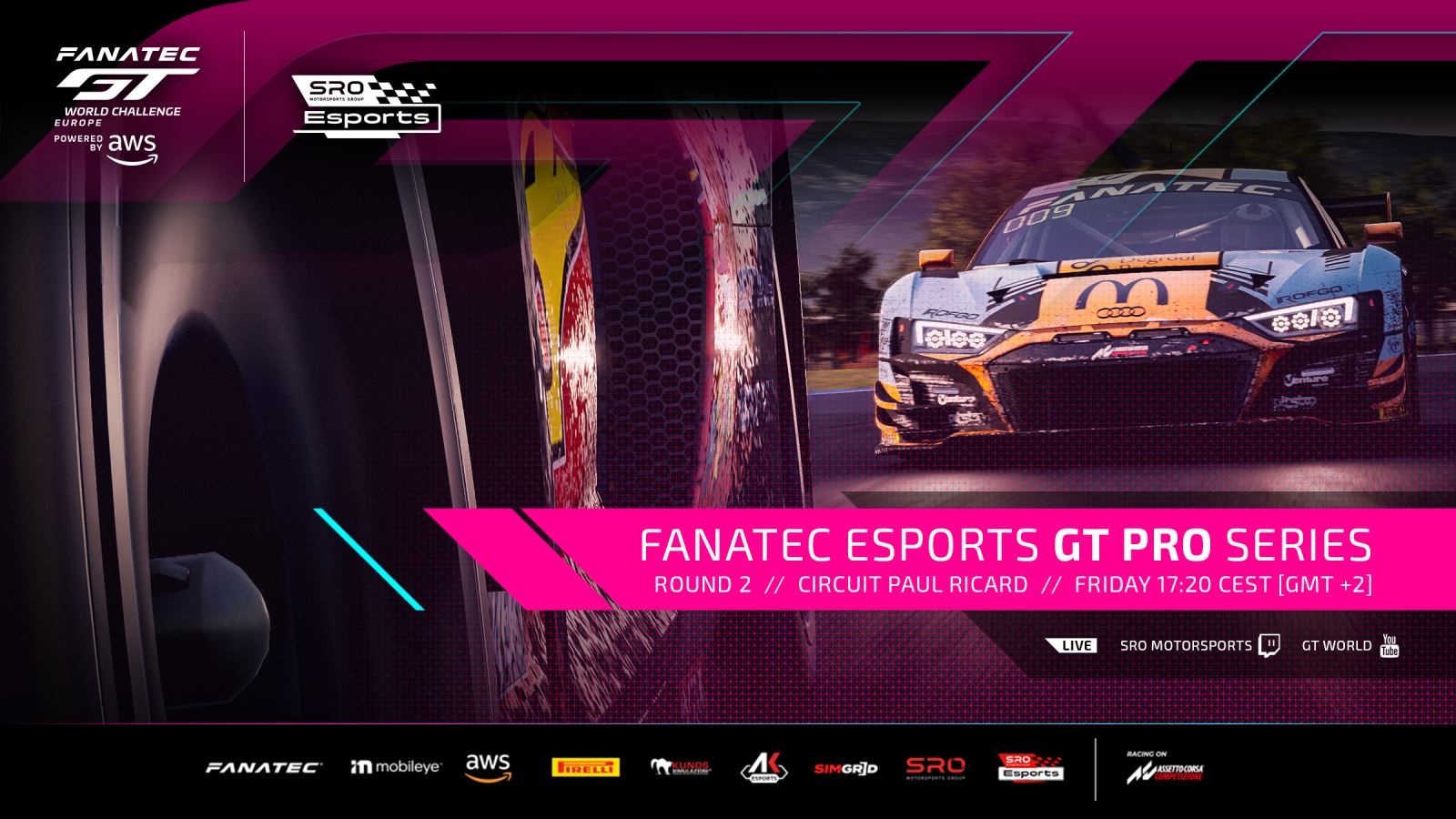 Madpanda and Nesov top the charts heading into Circuit Paul Ricard
Alexey Nesov proved the sensation of the new season, with his outright victory at Monza earning a maximum 5-point bonus for Madpanda Motorsport, and he's back and aiming for more in round two.
The top five finishers from the hour-long sprint are awarded bonus points toward the Fanatec GT World Challenge Europe Powered by AWS Endurance Cup Teams' Championship. Nesov's fine simulator drive was then backed up by the Madpanda Mercedes-AMG GT3 taking second in the Silver class in the real-world Monza race, the combined total giving the team a handy 8.5-point lead in the title chase heading into round two.
The value of the Esports scores is reflected in the fact that the entire top eight finishers from Monza are all back for another go. Marius Zug pushed Nesov all the way in the Gold class Winward Racing Mercedes-AMG and will be looking to go one better this time, while Jordan Pepper will again handle the Iron Lynx Lamborghini he took to third overall in round one.
Sandy Mitchell gets another go aboard the K-Pax Racing Lamborghini that he scored pole position in for Monza before a tough race put him way back to 12th at the flag. However, there's no doubting the Scotsman has the speed.
Last year's Silver champion Alex Aka is always one to watch in the Tresor Attempto Audi R8 LMS Evo II, while Laurin Heinrich (Rutronik Racing Porsche), Dries Vanthoor (Team WRT BMW M4) and Mattia Drudi (Tresor Orange 1 Attempto Audi) all impressed with their pace last time out and should be in the hunt for points.
With the headline Circuit Paul Ricard 1000kms taking place on Saturday evening, the second round of the Fanatec Esports GT Pro Series gets underway a day earlier than usual, with the race scheduled for 17:20 on Friday June 2. All the action will be streamed live on the GT World YouTube Channel.
ENTRY LIST: Fanatec Esports GT Pro Series, Circuit Paul Ricard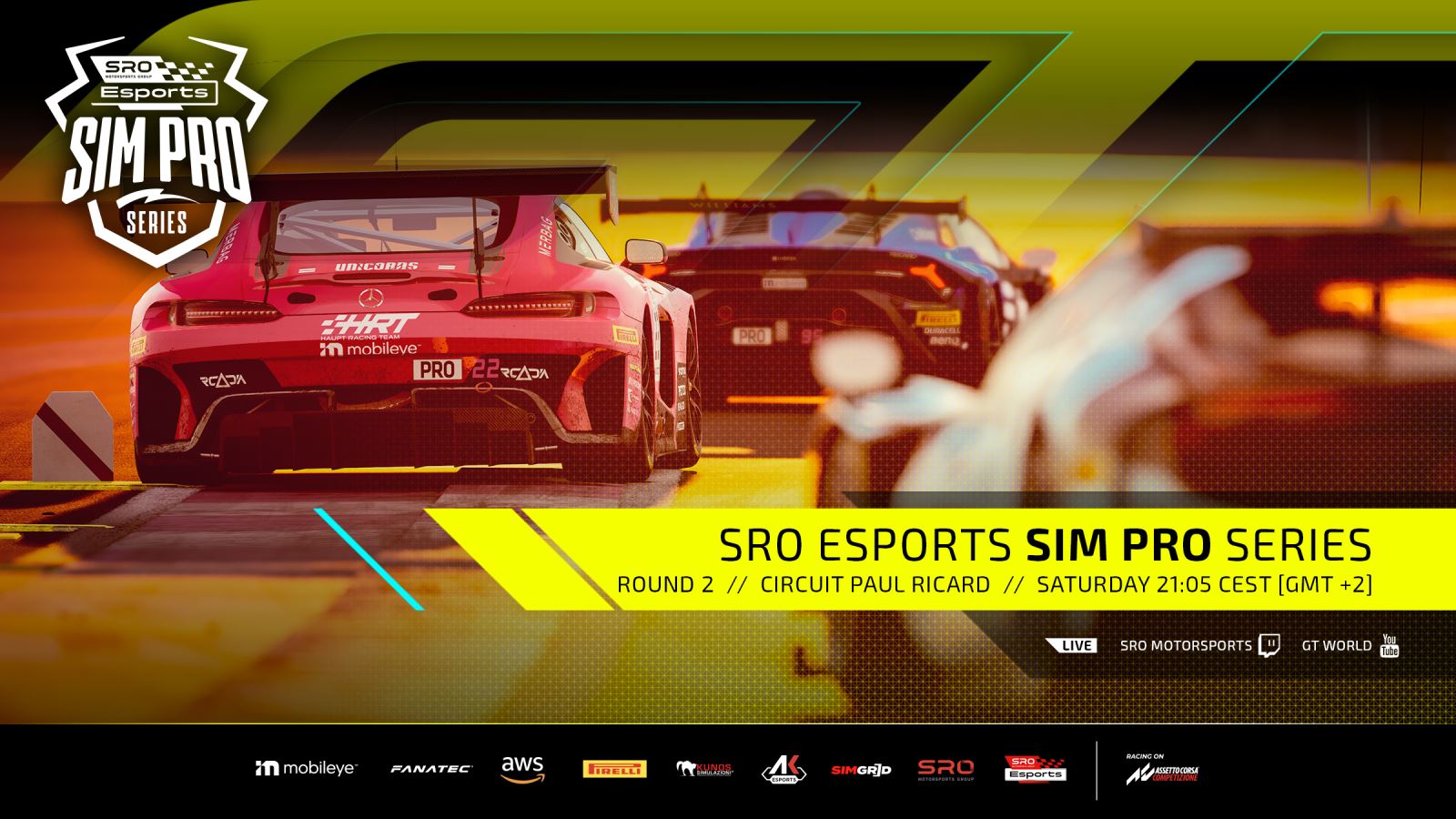 Pfeffer back for more as Mercedes-AMG Esports Team HRT by UOL eyes the double
If the first race of the all-new SRO Esports SIM Pro Series at Monza was anything to go by, Saturday night's second round will be one not to miss.
The first race gave us a titanic all-Tobias battle, as both Tobias Pfeffer and Tobias Gronewald produced a cat-and-mouse duel for honours in their respective Mercedes-AMGs. Pfeffer narrowly came out on top to prove the class of the field for HRT by UOL to give his team the early lead.
However, Pfeffer will face both renewed and refreshed competition this weekend, thanks to a series of driver shuffles. Like the GT Pro Series, points are scored by the teams, meaning each can use multiple drivers across the year, and there are some interesting subs for round two.
Monza turned out to be a happy hunting ground for Mercedes-AMG drivers, with the top-four finishers all racing for the German brand, but the more technical layout of Circuit Paul Ricard could well change that, as could the new-look entry.
Gronewald will sit this one out, with Niklas Houben and Bastian Richter entrusted to handle the pair of Unicorns of Love Mercedes-AMGs. Dominik Blajer (third in Monza) returns for Williams Esports, while the team's second car will switch out Dáire McCormack for Dennis Schöniger for round two.
Perhaps the biggest new entry comes in the form of Tinko van der Velde, who has enjoyed a blistering start to SRO's online Esports championships this year. He will also race under the Williams Esports banner.
The grid is also about much more than just Mercedes-AMG, with factory entries from brands such as Lamborghini, BMW, Ferrari and McLaren.
David Tonizza came agonisingly close to his breakthrough win for Lamborghini at this track during the recent online European Sprint Series round, only to come to blows with van der Velde. Both will be keen to keep things clean this time around in the Arena. Danilo Santoro and Luca Losio join Tonizza in the trio of factory Huracans.
Scuderia Ferrari Esports Team again nominates Jordan Sherratt and Chris Harteveld in an unchanged line-up, while BMW M Team BS+Competition sticks with Arthur Kammerer and Gregor Schill.
McLaren Veloce recently celebrated a fine victory in the Mobileye Intercontinental GT Challenge Esports Bathurst 12 Hours, and driver Luke Whitehead will be looking to carry some of that form into France, while Flash Axle Sports' Ar Muhammad Aleef will want to build on his superb fifth overall –and first non-AMG driver – at Monza in the team's Ferrari 296.
Others to watch include Daniel Savini (Jean Alesi Esports Team Porsche 992 GT3 R), Mateusz Tyszkiewicz (ITB Saintéloc Racing Audi R8 LMS Evo II), Dario Iemmulo (VS Racing by Ballas Esport Lamborghini) and Kieran Prendergast (Brabham Esports Powered by O-Rouge Ferrari)
Action for the second round of the SRO Esports SIM Pro Series gets underway live from the paddock at 21:05CEST on Saturday, June 3. The race will be streamed live via the GT World YouTube Channel.