Lamborghini takes clean sweep of victories in opening Zandvoort contest

Feller and Fontana in complete control to claim overall and Silver Cup wins
Barwell Motorsport takes Pro-Am honours thanks to race-winning pass by Ramos
Emil Frey Racing Lamborghini scored a dominant win in the first of this weekend's Sprint Cup contests at Zandvoort thanks to a faultless drive from its all-Swiss crew of Ricardo Feller and Alex Fontana.
The #14 car led from the front of the grid following Feller's outstanding pole position lap and was untroubled on its journey to the chequered flag, securing both drivers a maiden overall triumph in Fanatec GT World Challenge Europe Powered by AWS competition. Feller and Fontana also wrapped up victory in the Silver Cup, headlining an incredible performance that saw five class contenders among the overall top-six.
Just as Feller controlled the start, fellow front-row qualifier Ulysse de Pauw also made an excellent launch in the #107 CMR Bentley and ran second throughout the opening half-hour. With the Mercedes-AMG GT3 machines of Juuso Puhakka (#7 Toksport WRT) and Jim Pla (#87 AKKA ASP) holding the next two positions, Silver Cup crews dominated the top-four spots during this phase of the 60-minute contest.
It was quickly clear that no one could match the #14 Lamborghini out front, with Feller pulling almost 10 seconds clear during the first stint. The Emil Frey Racing crew were remarkably cool when the Swiss driver pulled in to make his pit stop, calmly servicing the car and sending Fontana on his way.
The #107 CMR Bentley held on to second position after the pit stop window had closed, while the #31 Team WRT Audi vaulted to third following a typically rapid stop from the Belgian team. Frank Bird had run well in the opening stint before handing over to Ryuichiro Tomita, though the Japanese driver soon had a charging Raffaele Marciello filling his mirrors.
The #88 AKKA ASP Mercedes-AMG had also profited from a quick service and Marciello was in his element after taking the controls from Timur Boguslavskiy. The Italian has soon dispatched Tomita and set off in pursuit of Pierre-Alexandre Jean in the second-place Bentley, though the Frenchman was by no means an easy target.
It took time to bridge the gap, but Marciello ultimately made a move stick with seven minutes left on the clock. By this stage, however, he was more than 16 seconds behind Fontana and had to settle for a hard-fought runner-up finish. The Swiss driver eased off on his run to the chequered flag and won by a margin of 9.6 seconds, ensuring that he and Feller became just the third Silver Cup crew in Fanatec GT World Challenge Europe Powered by AWS history to triumph overall.
Jean completed the top-three, the second podium that he and the CMR Bentley squad have taken at Zandvoort after last year's runner-up finish. Fourth position, as well as the final spot on the Silver Cup podium, went to the #31 Team WRT Audi of Bird and Tomita, while the #7 Toksport WRT Mercedes-AMG was fifth after a late pass by Óscar Tunjo overhauled the #87 AKKA ASP car of Konstantin Tereschenko.
The #6 Mercedes-AMG Team Toksport WRT duo of Luca Stolz and Maro Engel took seventh, though it could perhaps have been more after Stolz made a great start from ninth to run fifth during the opening stint. A slow pit stop dropped the car back to seventh, leaving Engel to fend off title rival Dries Vanthoor (#32 Team WRT Audi) to the finish. Behind the Belgian driver, two more Audi squads completed the overall top-10: the #26 of Saintéloc Racing and Attempto Racing with its #66 machine.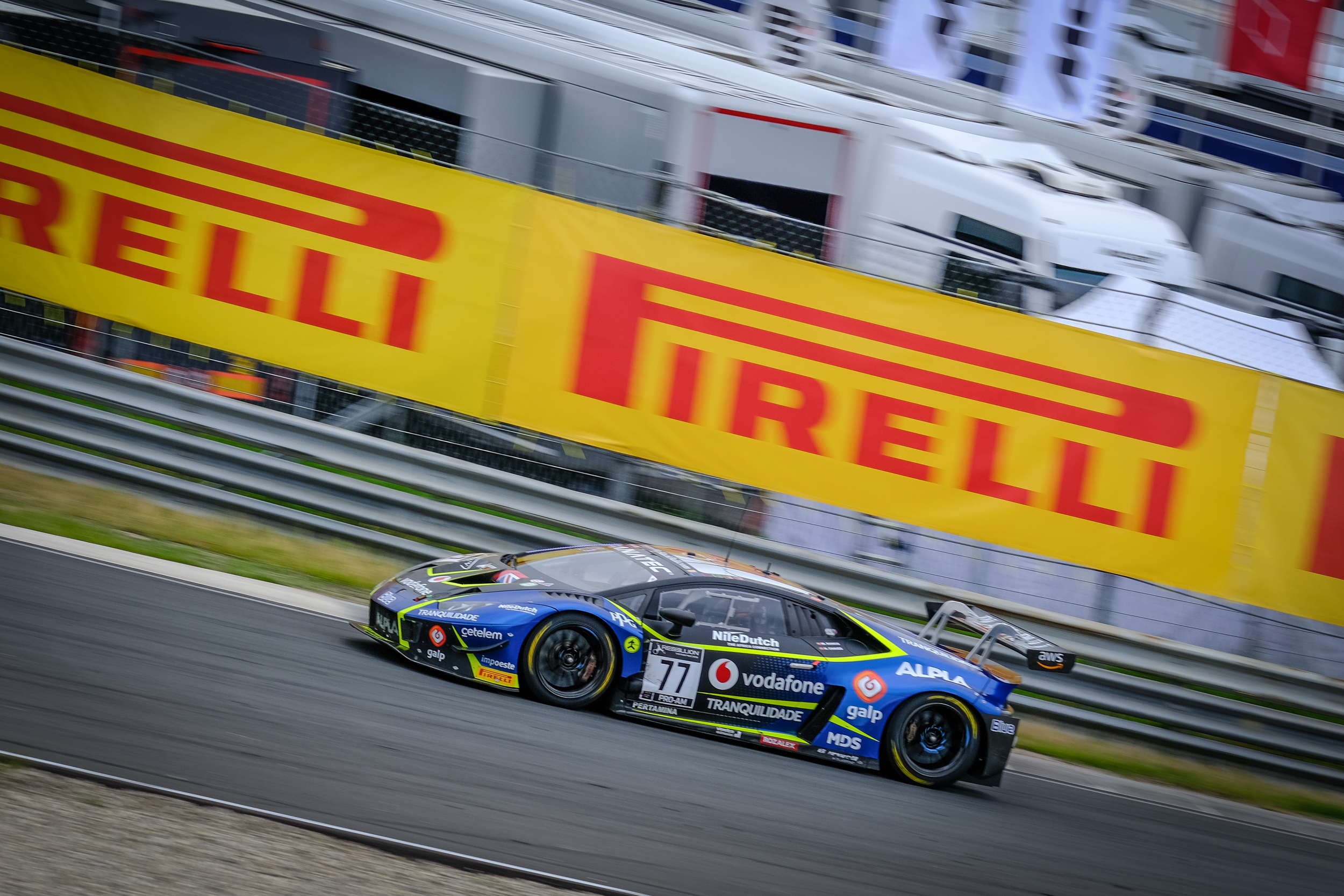 Pro-Am honours were closely disputed from lights to flag. The #77 Barwell Motorsport Lamborghini started from pole with Miguel Ramos at the wheel but was overhauled during the opening stages by the #52 AF Corse Ferrari of Louis Machiels. The Portuguese driver was far from beaten, however, bravely launching an attack around the outside of Tarzan and making it stick.
Ramos then handed over to Henrique Chaves, who pulled clear of Andrea Bertolini to win by more than 15 seconds and ensure a clean sweep for Lamborghini. SPS Automotive Performance completed the Pro-Am podium with the #20 Mercedes-AMG of Valentin Pierburg and Dominik Baumann.
Today's action will be followed by another full day of competition on Sunday. Drivers will qualify at 09:00 CEST, while the weekend's closing race begins at 14:30 and once again runs for 60-minutes. With mixed weather conditions forecast, a very different contest could be in store at Zandvoort. As ever, live coverage will air on the Fanatec GT World Challenge Europe Powered by AWS website and across the series' social media channels.
___