Annual prize-giving ceremony staged ahead of Circuit Paul Ricard 1000km
Silverware distributed for Fanatec GT World Challenge Europe Powered by AWS and GT4 European Series
Intercontinental GT Challenge Powered by Pirelli and Total 24 Hours of Spa stars also celebrated
SRO Motorsports Group recognised the star performers of the 2020 season last night in a prize-giving ceremony held at Circuit Paul Ricard.
Traditionally staged at the conclusion of the year, the annual awards were postponed due to the COVID-19 pandemic. With restrictions continuing into 2021 it was decided to wait for a suitable time and location at which to hand out silverware for a number of categories, including Fanatec GT World Challenge Europe Powered by AWS and the GT4 European Series.
With both competing at Circuit Paul Ricard this weekend the French circuit provided an ideal opportunity. The venue was particularly appropriate, as each series concluded its 2020 campaign at the track last November. As such, many of those who received their silverware on Thursday evening did so at the scene of their triumph. The ceremony followed similar prize-givings staged for SRO America, the FFSA French GT Championship and the Intelligent Money British GT Championship.
The champions of Intercontinental GT Challenge Powered by Pirelli were among those celebrated during the awards. Walkenhorst Motorsport BMW drivers Nicky Catsburg and Augusto Farfus were recognised for their championship triumph, which was secured in dramatic fashion at Kyalami. Porsche clinched the manufacturers' crown for a second successive season, retaining the distinctive porcelain trophy.
The German marque was further represented as the overall winner of the Total 24 Hours of Spa thanks to ROWE Racing, while the class victors from last year's Belgian endurance classic also collected their awards. Each winning competitor had already received a limited-edition watch from Rebellion Timepieces to mark their achievement.
Team WRT (Audi) was crowned overall Fanatec GT World Challenge Europe Powered by AWS champion, while Timur Boguslavskiy (AKKA ASP Mercedes-AMG) was recognised for his drivers' title. Team WRT and its young duo of Dries Vanthoor and Charles Weerts collected the Sprint Cup awards, while AF Corse (Ferrari) and Alessandro Pier Guidi triumphed in the Endurance Cup.
Among the other titles celebrated, Chris Froggatt and Eddie Cheever III picked up the combined Fanatec GT World Challenge Europe Powered by AWS Pro-Am crown, while the teams' title went to Sky Tempesta Racing (Ferrari). Madpanda Motorsport (Mercedes-AMG) earned Silver Cup honours, while Ezequiel Perez Companc was crowned drivers' champion. Each class also rewarded its top finishers in the Endurance Cup and Sprint Cup, while all title-winning driver line-ups received a limited-edition watch crafted by Rebellion Timepieces.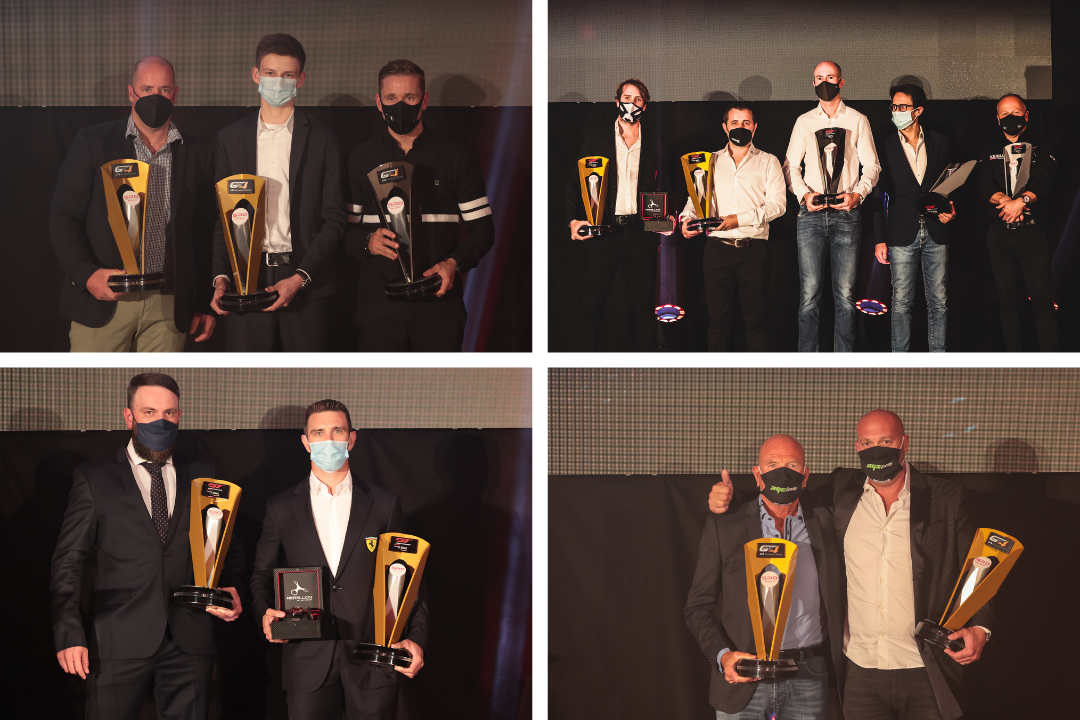 Points from the European championship counted towards the global Fanatec GT World Challenge Europe Powered by AWS manufacturers' title, which was won for a second time in succession by Mercedes-AMG. Karim Ojjeh was presented with the Philippe Charriol Trophy, which is awarded in the spirit of the gentleman driver who passed away in 2019. The mechanics were recognised, too, with Team WRT duo Alexandre Riquier and Gil Botelho collecting their prize for the Pit Stop Challenge.
The GT4 European Series celebrated the top-three finishers in its Pro-Am, Silver Cup and Am Cup drivers' classifications. The former was won by Allied-Racing (Porsche) duo Jan Kasperlik and Bastian Buus, while the latter titles were both earned by representatives of French squad AGS Events, which also scooped the GT4 European Series teams' crown. Valentin Hasse-Clot and Theo Nouet won the Silver Cup, while Nicolas Gomar and Gilles Vannelet took Am honours. Each championship-winning driver had already received a Certina watch at the conclusion of the 2020 campaign.
Competitors from both European series will be on-track this weekend chasing points towards their 2021 title assaults. Fanatec GT World Challenge Europe Powered by AWS will tackle its traditional six-hour contest at 18:00 CEST on Saturday, while the GT4 European Series will stage a pair of one-hour races on Sunday.
___
More pictures: click
___